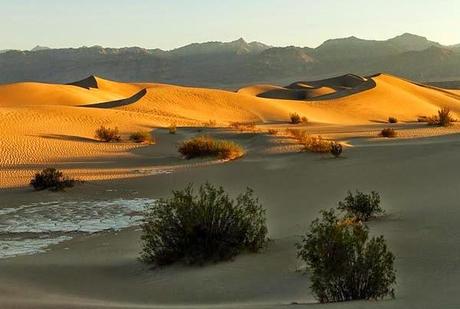 Death Valley, sunrise in the dunes
Last September, our friend Owen Floody went on a photo tour of Death Valley National Park in the California desert.  Owen recently retired from a career of teaching and research at Bucknell University in Pennsylvania. He has always been an avid photographer and in his retirement has taken several trips that allow him to pursue his passion. Here is a short reflection on his trip to Death Valley and a few of his excellent photographs.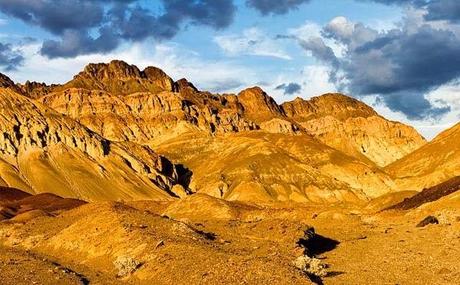 Death Valley Badlands
Early September is probably not the ideal time to visit
Death Valley National Park
.
But I was in nearby Las Vegas to attend a family wedding and making a quick 4-day tour of Death Valley was too convenient to pass up.
However, the impressive heat (often of 110-120° in the shade) did have a major impact on my schedule of activities, forcing a retreat to my books and the motel pool in the middle of each day, when anything much more vigorous would have been unpleasant.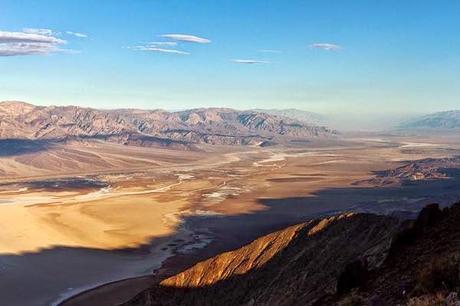 A view of the valley from Dante's View in the course of a sunrise. 

After a very early start, I always attempted to catch an attractive sunrise at one of several vantage points, including the Mesquite Flat sand dunes, the Badwater Basin salt flat, and Dante's View, overlooking much of the entire valley.
Later in the morning, when it was beginning to heat up, I would look for some shade in one or more of the many canyons in the Furnace Creek or Stovepipe Wells areas.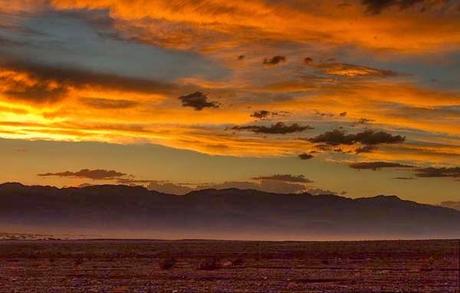 A lucky shot of a sandstorm at sunset in the Mesquite Flat dunes
Then, after my siesta, I would return to the canyons and badlands in the late afternoon before beginning the search for a good sunset, usually in or near the sand dunes.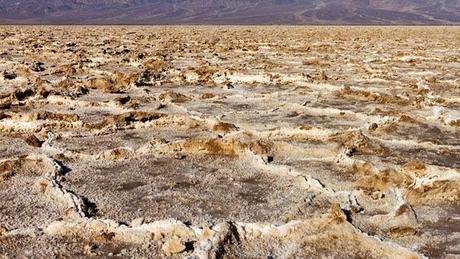 A moment shortly after sunrise in the salt flat.
Though this strategy was a matter of choice only in part, it worked out well, yielding pleasant experiences and some good photo ops, especially in the dunes and on the salt flats. Also, even if sunrises had not been a priority, early morning was by far the coolest and most pleasant part of each day.
As a result of my relatively brief visit, I was only able to pay one visit to the salt flats and never did catch a sunrise at the famous Zabriskie Point.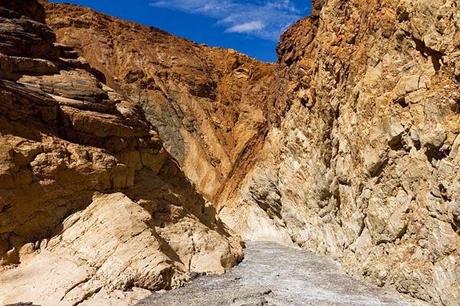 One of the many canyons in Death Valley
Finally, my access to some parts of the park was limited by a series of temporary road closures prompted, surprisingly enough, by recent heavy rains.
This contributed to my failure to see some sights, most notably the mysterious and relatively remote Racetrack, where large rocks seem to be blown across a flat and slippery surface when observers are absent and the conditions just right.
In truth, even more time and clearer roads might not have reversed this failing, as I was strongly advised that a trip to the Racetrack requires 4-wheel drive and tires with puncture-resistant sidewalls, neither of which came with my rental.
The net effect, though, is not an entirely unwelcome one: A return trip to Death Valley clearly will be required, perhaps even timed to exploit the more congenial temperatures of the late fall - early spring.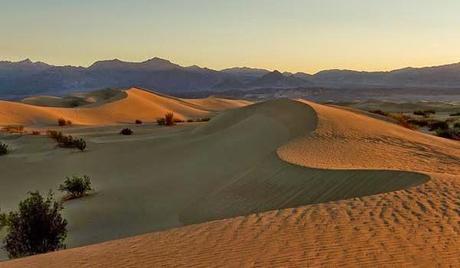 Sunrise on dunes
Read more about Owen's travels in these posts at
The Intrepid Tourist
.
Iceland: 8/26/13Nepal: 5/20/13Tanzania: 5/6/13