The death of the backboard went unnoticed, unannounced, and with no published obituary and no services.
As a matter of fact, it happened years ago sometime in the early 1980s around the time subdivision, as we now know them, were built and scattered all over.
The death of the backboard may be one of the contributing factors to the decline in tennis after the market high of the 1970s. The market of tennis, that is. Of course, I am referring to the US tennis market. The 1970s were the heyday of the United States domination of the world tennis scene. To name a few: Jimmy Connors, John McEnroe, Billie Jean King, and Chris Evert.
And what did they all have in common? The backboard. How do I know this? Because I was a tournament player too in the 1970s.
Here is how your day went in summers and after school: you walked to the park with one tennis ball and your racquet and hit on the backboard. Someone saw you, or heard the ball on the backboard, or someone was waiting for their partner to arrive, so they asked you to hit. This is how beginners started all over the world. Tennis is universal. Or maybe, your mom, dad, or big brother drove and dropped you at the courts. Yes, you made sure, of course, you had your racquet and made extra sure you had a ball. You only had to forget your ball one time for this to never happen again. You may have taken a brown paper lunch bag with a jelly sandwich or some Cheetos, too. Anyway you just made sure you got to the courts. They may have been at the park. They may have been at the country club, or they may have been at the high school. But you made good and sure you got there. Then, when it got close to dark someone came and got you. You don't know how. It just happened. There weren't any cell phones. Heck there wasn't even a phone at the courts unless there was an office way far from the backboard. You just got picked up at the end of the day.
Folks, this is how tennis starts. This is how tennis used to start. And this is how tennis can start again. Yeah, there will be all kinds of naysayers about, danger and kidnappings, and schedules and money, but tennis can be free, easy, and safe. And the pros will say backboards would cut into their lessons. No, it wouldn't. It would increase interest and confidence so someone may pay for lessons that didn't even know they liked tennis before they hit on a backboard.
We just need to build backboards again. At your park, in your subdivisions, and at schools. And please, unlock those gates. At the country clubs I know you need to make money. You have to pay for that expensive ball machine you bought on credit. Like said above, a backboard will produce the interest and confidence to rent the ball machine.
Build a backboard pros. Let's resurrect the backboard. Let's bring the backboard back to life. Let's have a rebirth of the backboard. It's just so sad riding by courts with no players. Well, the parking lot has to be less than 15 steps to the courts. Tennis players will not walk through the grass to play. We are not golfers. Our tennis shoes have to stay dry to play. We have gear we carry too. We don't have tennis carts, you know, like golf carts.
So, you city planners and landscape architects take notice. The parking for tennis courts has to be for and immediately next to the court. I specifically mean there has to be asphalt or concrete from the time you step out of your car and step on to the court. Makes a lot of sense right? Well, next time you ride by some tennis courts that are always empty, see how far they are from the parking lot. And, also, see if they have a backboard?
Let's make this funny little article be a game changer. Build courts that people actually play tennis on. Not courts we pay a regime fee to look at and offer in the sales package. How much does a backboard cost? I just built one at our park and it cost me $700. Marine plywood, a few 4x4s, and labor. How about a non-profit corporation that builds backboards at every park and school in America? How long would it take for the USA to get on top of the tennis world again, or how long would it take for us to fill those empty courts with players? Next article, let's investigate all the positives that come from learning the game of tennis.
SUBSCRIBE TO OUR AWESOMENESS
and never miss a post, announcement or giveaway!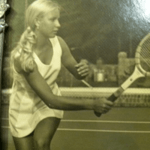 MaryEllen Wilkinson
MaryEllen Wilkinson began her tennis career playing in the juniors in South Carolina and was No. 1 in 1974. On a Title IX scholarship, she played for Florida State (1974-78) and was MVP all 4 years. After she earned her degree in Marketing and Real Estate, she went pro for a year before working in Lake Placid during the 1980 Winter Olympics. She went on to teach tennis (25 yrs.) and coach high school tennis teams (12 yrs.) and today, MaryEllen is a successful real estate agent, specializing in the Mountains of South Carolina as well as a popular speaker. She is also a cancer survivor and mother of 3 successful young adults.