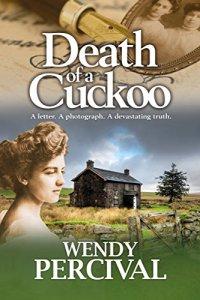 Novella
4*s
Although I haven't read the previous two full-length novels featuring Esme Quentin a genealogist, I was keen to find out more so decided to try this novella.
Following the death of her mother Gina Vincent, the photograph inside a condolence card reveals a secret that rocks her to the core. Gina calls on Esme to help her uncover the truth about her  family.
This is a good mystery both in the family history sense where the author's knowledge of her subject shines through without the often laborious details of reality getting in the way of a good story. That isn't to say an unrealistic picture is painted of the reality of searching through records but as much of this happen off-page these facts allow the story to flourish while giving a flavor of how such things work in 'real-life' As part of their research the pair need to expand their search beyond the birth, marriage and death details, taking on the searching through the microfiche for newspaper stories and even go as far as including a house. All fascinating and woven around a solid story.
The characters are solid, especially Esme who comes across as a no-nonsense woman with compassion for the living people who are waiting on her conclusion to the mystery. She isn't simply a collector of dates and names, those behind the faceless records are given color by the all-round research carried out. And despite the short format this book the author hasn't neglected the settings with a good sense of place being maintained throughout, something I find incredibly important and often is skimped on in this format.
Despite this being a novella, the book is not all about records and we get a real sense of physical drama  when it seems someone isn't keen on Gina finding the truth about her family.
I often feel a little let down by novellas as I am a die-hard fan of the full-length novel but I can honestly say I felt satisfied by the story I was told in this one. I had time to put myself in the characters shoes and admire Esme Quentin as she set about her work as a genealogical detective.
As Death of a Cuckoo was such an enjoyable book to read I will definitely be purchasing the two full-length novels available featuring Esme Quentin: Blood-Tide and The Indelible Stain.
First Published UK: 6 March 2017
Publisher: sBooks
No of Pages: 106
Genre: Genealogical Mystery
Amazon UK
Amazon US