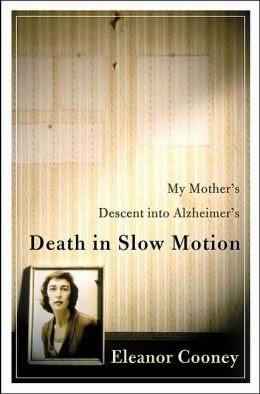 Published February 3, 2004
Eleanor Cooney admired her mother Mary Durant for being cool, stylish, intelligent and sophisticated.  Her mother's core personality traits were dismantled once Alzheimer's Disease started to take its toll.
In her memoir
Death in Slow Motion
, Cooney relays an enormous amount of detail regarding her mother's illness and its affect on Eleanor.  Despite Eleanor's best efforts, her mother was lonely, grieving, agitated, clingy, weepy, and complaining.
Interspersed between accounts of Mary's hardships are details about her interesting and sophisticated life during the decades prior.
Mary worked as a writer, editor and for a time a model. She lived in New York City for a time before residing for decades in Washington, Connecticut.
Mary had three husbands and scores of lovers.  She was bold, intelligent, and independent.  She spent a quarter of a century in a happy marriage with her third husband, Michael Harwood.  He was twelve years younger than Mary, so when he died first, it was an immense shock to her.
In the wake of Mary's intense grief came a diagnosis of Alzheimer's Disease.  Because Mary could no longer manage on her own, her daughter Eleanor moved Mary from Connecticut to Northern California where Eleanor was living and working as a writer.
That's when Eleanor's life fell into complete chaos.
Mary had constant complaints of stomach problems. She couldn't remember that she was living in California. She forgot that she had already eaten. She asked the same questions repeatedly. She was drinking too much hard liquor.  She would open and slam every cupboard in the kitchen looking for who-knows-what. She cried and complained that she was lonely.
Eleanor and her partner Mitch tried various arrangements to help placate Mary: a nice apartment, then a paid caregiver, then a mother-in-law apartment on their property.  Nothing worked. Then the interventions became more intense.  (Read the memoir for the difficult details.)
In the meantime, Eleanor and Mitch fight, they both start drinking, they both have trouble working to pay the bills. And Eleanor cycles through feelings of duty, guilt, sorrow, resentment and anger.
This is one of the gloomier dementia memoirs I have read, but I still value its insights into the disease and into the caregiving relationship. Caring for someone with dementia is clearly one of the most challenging situations anyone could face.  I respect Cooney for her honesty.
Related:
Books about Dementia
Movies Depicting Alzheimer's and Other Dementias