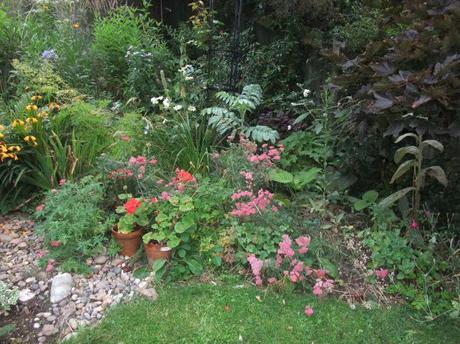 Site of the new veg bed
The other day I wrote a post while trying to work through some thoughts about my allotment and it seems to have struck a chord with many.  I talked about how I was struggling with the allotment mainly due to the pressure of time and also the distance of the plot from home.  I was really pleased to receive so many supportive comments.
Many of you were right in that by the time I had got to the end of the post I was 90% sure that the allotment and I should part company.  I have been to the plot a couple of times since writing the post and there has been no feeling of guilt or regret.  In fact as if the allotment wanted to help me make the decision I discovered that the whole bed of 12 tomato plants had been hit  by blight and there were only four possibly salvageable tomatoes. This is on top of potato blight, garlic rust, and slugs a plenty.  Oh  and the salads bolted and had to be discarded.
Anna commented that she enjoyed the social side of her plot and this had kept her going when times were tough.  However, I don't enjoy the social side.  I spend all week with people talking at me at work and so crave peace and quiet in my non-work time.  This is probably why I go to the plot so early in the morning.  I don't like all the politics there is enough of that at work.
So within 24 hours of writing the post I had told my parents.  Ridiculous I know at my age but they had helped me so much in setting it up that I wanted to explain to them.  They were absolutely fine and said they thought I was trying to do too much.  A weight has lifted and I feel so relieved.
Attention has now turned to the garden.  I have identified an area which has always lacked an identity – its call the corner bed which says it all and my son and I have been measuring up.  I have explored the ideas of square foot gardening and although I'm not sure I want to grow veg in this way I do really think that a 4′ x 4′ raised bed will do me for a while.  I can grow salads in it, maybe a small row of mangetout, a few carvelo nero and nice things like florence fennel and pak choi which would benefit from closure monitoring than I can give them at the plot.
My new approach is to not grow large  quantities  of veg and fruit that dictate what we eat but to grow small  amounts of home-grown treats.  Things that I will really look forward to and savour.  They might be over quickly but I will have enjoyed them rather than beginning to wish for the crop to stop and being weary of finding ways to cook courgettes.  I want to enjoy growing edibles as part of the overall garden rather than compartmentalized.  I want to pop out in the garden in the morning and pick some salad leaves for my pack  lunch or a few strawberries for my breakfast.  I am also going to grow more in pots.  I have had huge success this year with cucumbers and courgettes in pots and I have some chinese cabbage seedlings which were destined for the plot which I shall pot up to see how they do.
And what of the plot?  I haven't walked away yet as I want to move some of the fruit bushes back to the garden so need to wait until the autumn.  I think I have found homes for nearly everything on the plot and we can reuse much of the timber and weed suppressing membrane in the new vegetable area.  So the financial investment isn't lost.
I don't regret at all the last 2 years at the plot.  I have learnt loads.  I have learnt that I can grow veg and fruit but that they are definitely not my first love.  I have learnt that whilst I enjoy cooking it's not to the extent of enjoying the challenge of preserving and finding interesting ways to cook the same veg day in and day out.  The plot has been cathartic  it has helped me work through difficult times, work off lots of anger digging weeds but I now find myself feeling better, calmer and more myself.  So thank you plot 38 its been great but its time to move on.
So here I  am excited at the new plans for the garden which will also mean that we can finally finish off the steps going up the garden which my son and I have been dithering about for a year  or two now.  Plus I can exactly enjoy a slow start to my Sunday, read my gardening magazine and not feel guilty about not being at the plot.
Thank you all for your support and positive  comments.