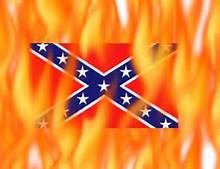 About those confederate flags, and images of flags -- ANY confederate flags -- NO, pretending they are innocently ONLY about southern pride or heritage is not a compromise, it does not work, it is not EVER acceptable (with the exception of historic re-enactment). 
On Monday June 22, Haley held a presser where she apprehensively called for the S.C. state legislature to take down the flag -- if they want to, kinda sorta.  If they don't want to do so, she offered no alternative to get that flag out of the faces of people oppressed by it.
If she had actual courage and conviction, Governor Haley, would take it down by executive order, and let happen as a result whatever needs to happen, including legal challenges -- and there are plenty ready, willing and able to make those challenges to get the flag down and keep it gone.
Moreover, I thought  Haley looked scared to death making her little speech, and probably she should be scared; scared of the political fall out from voters and donors, scared of the possibility the next white racist bullets are shooting at her. 
Let's be candid shall we, about Haley's ties to the same White Supremacists who are still claiming that alleged mass shooter Dylann Roof had justifiable grievances.  She has been in state politics too long not to know who these people were.  The only real 'compromise', to use a word that has flown around this controversy like the confederate flag in a high wind, has been with integrity and support for civil rights.  The following certainly shows how bad those people Governor Haley calls good really are.
From
the Charleston City Paper back in late May of 2013
, just two short years ago:
Nikki Haley appoints member of white power organization to campaign




Roan Garcia-Quintana is board member of Council of Concerned Citizens

The Post and Courier just dropped a doozy of a story: Gov. Nikki Haley has appointed an alleged member of a white supremacist organization to her campaign. The man in question: Roan Garcia-Quintana. The group: the Council of Conservative Citizens.




The P&C reports:




Gov. Nikki Haley is under attack from the National Jewish Democratic Council because one of her campaign co-chairs has ties to a hate group.

Haley appointed a tea party activist named Roan Garcia-Quintana of Greenville as one of her 164 campaign co-chairs.




The Southern Poverty Law Center issued a recent report noting Garcia-Quintana is a member of the Council of Conservative Citizens. National Jewish Democratic Council executive director Aaron Keyak said the council has links to anti-Semitism.

Now, how did Tim Pearson, Haley's one-time chief of staff and current campaign manager, respond. Did he say that Garcia-Quintana had been given the boot? Did he apologize to the National Jewish Democratic Council, the NAACP, and, well, anybody who hates racist assholes? Did he admit that the Haley campaign had unwittingly appointed an alleged member of a hate group to the team? Nope. Pearson did what those in the Haley camp always do: He pointed the finger at someone else.




The P&C reports:




Asked about the National Jewish Democratic Council's criticism, Haley campaign manager Tim Pearson said it "is clearly ginned up by some outside group."

Well, Tim, this is more than a controversy ginned up by some outside group. It's a real fucking controversy. See, if the Council of Conservative Citizens had their way, Nikki Haley wouldn't be living in the United States, much less in the South Carolina governor's mansion.




According to the CofCC's Statement of Principles, written by former Washington Times columnist and racist Sam Francis:





We believe the United States is a European country and that Americans are part of the European people. We believe that the United States derives from and is an integral part of European civilization and the European people and that the American people and government should remain European in their composition and character. We therefore oppose the massive immigration of non-European and non-Western peoples into the United States that threatens to transform our nation into a non-European majority in our lifetime. We believe that illegal immigration must be stopped, if necessary by military force and placing troops on our national borders; that illegal aliens must be returned to their own countries; and that legal immigration must be severely restricted or halted through appropriate changes in our laws and policies. We also oppose all efforts to mix the races of mankind, to promote non-white races over the European-American people through so-called "affirmative action" and similar measures, to destroy or denigrate the European-American heritage, including the heritage of the Southern people, and to force the integration of the races.

Yeah, there's nothing to see here, but Tim Pearson and the Haley campaign trying to wipe egg off their faces.


Oh, and one more thing. S.C. Democratic Party chair Dick Harpootlian is a douchebag too. Seriously, Dems. Do you really want a guy who says that Nikki Haley should go "to wherever the hell she came from" as your leader? It's about time you gave this intolerant, homophobic asshole the boot.
Update: The Southern Poverty Law Center first broke this story two days ago. Here's what they have to say:


In anticipation of her 2014 re-election campaign, the Tea Party darling [Nikki Haley] has put together a 164-member steering committee comprising folks from all 46 of her state's counties. And on that list is one "Republican leader" and Tea Party activist named Roan Garcia-Quintana of Greenville.




The name won't ring many bells outside of the South Carolina political world. But he's better known in white nationalist, anti-immigrant and neo-Confederate circles.




Garcia-Quintana is a lifetime member and current board member of the Council of Conservative Citizens (CCC), which is listed as a white nationalist hate group by the Southern Poverty Law Center. The CCC is the linear descendant of the old White Citizens Councils, which were formed in the 1950s and 1960s to battle school desegregation in the South, and has evolved into a crudely racist organization. Its website, for example, has published pictures comparing pop singer Michael Jackson to an ape and referred to blacks as "a retrograde species of humanity."

The SPLC adds:




Garcia-Quintana is also a rabid nativist, even though he's a naturalized citizen who was born in Havana. He's executive director of the anti-immigrant group Americans Have Had Enough, based in Mauldin, S.C., where he lives. At the 2008 CCC conference held in Sheffield, Ala., Garcia-Quintana referred to Latino immigration as an "illegal alien invasion." In September 2006, Garcia-Quintana's nativist organization received proceeds from a barbecue fundraiser featuring former U.S. Rep. Tom Tancredo of Colorado. Tancredo, who was one of the most virulently anti-immigrant members of Congress, was listed as honorary chairman of Americans Have Had Enough and is currently listed on the group's website as the "Past Honorary Chairman."...



Although Cuban by birth, Garcia-Quintana does not consider himself Latino. His ancestors, he says, were Spaniards and this makes him white. He refers to himself as "Havana born, Savannah raised" and as a "Confederate Cuban."
When YOU, Governor Haley claim that electing an Indian American woman, somehow FIXES or changes the history of that flag, you were wrong, desperately wrong.  It is incomprehensible how you think your personal experience somehow negated or rewrote the rest of much more significant history.  That is too low a bar for considering racism resolved.  Especially when your own opposition from your own conservative party engaged in racial slurs against you and against black Americans, notably the President, without any apparent consequences for his bigotry.  This is symptomatic of your state party, governor.  These are the people you are defending for flying the confederate flags.
From
'the State' back in June 2010
:
Knotts' slur stirs the Haley storm
Lexington state Sen. Jake Knotts called political rival and Republican gubernatorial candidate Nikki Haley a "raghead" on an Internet political talk show Thursday evening.




The term is a slur typically used against Arabs or other ethnic groups who wear turbans or headdresses. Haley, a state representative from Lexington, is the child of Indian immigrants.




"We already got one raghead in the White House," Knotts said. "We don't need another in the Governor's Mansion."




According to those present and watching the show, "Pub Politics," Knotts also talked at length about Haley's parents' religion and her family. Haley was raised as a Sikh, but converted to Methodist and has said she attends both services. "Pub Politics" host Wesley Donehue said the video will be posted today.




Haley's religion was raised as an issue during her first S.C. House run in 2004, when anonymous fliers claimed — inaccurately — that she was a Hindu.
Read more here: http://www.thestate.com/news/politics-government/article14385950.html#storylink=cpy
ead more here: http://www.thestate.com/news/politics-government/article14385950.html#storylink=cpy
Read more here: http://www.thestate.com/news/politics-government/article14385950.html#storylink=cpy Pretty much what Haley's statements asserts is that you and a few others like Governor Jindal got yours, so screw anyone else. 
You got yours, governor...but for how much longer?  How long until these racists throw you under the bus as their enemy, as the evil 'other' for forcing the issue of the confederate flag and for not upholding or giving cover to their racism?
Apparently Haley expects us to pretend that there is no continuing discrimination against immigrants, like your family, in America who have become citizens.  What that tends to represent is not so much that you are genuinely accepted fully as it represents a lack of political talent in those respective states as alternatives. 
Neither of Haley or Jindal are actually very popular, even with your own narrow political colleagues; but conservative efforts at voter suppression prevented a full and successful participation in the election process.
Apparently Haley expects us all to selectively forget that, for example, when an Indian American woman who was Miss New York, Nina Davulari, became Miss America?  Did Haley somehow MISS the headlines like this one?
From NPR
:
Is Nina Davuluri 'American Enough' To Be Miss America?
...It was the 87th year of the competition, and Davuluri was one of two Asian-Americans in the final round. Although she's just a few days into her reign, Davuluri has already made history. She's the first Indian-American Miss America.
Her win highlights how far the U.S. has come, but also how far the country has to go: Racist tweets flooded in on Twitter right after her victory.
It's not like the NPR piece is the only one to address the racism that erupted. 
Gawker had a piece
as well,
as did other media like Jezebel
.  They not only underline the continuing anti-Indian American racism (as distinct from Native American racism, that continues as well) but the ignorance of the hatriots when it comes to geography and comparative religion, an ignorance they often display in their failure to master literacy in English spelling.
Racists Are Being Hella Racist Because Miss America Isn't White
...Idiot racists got so mad, they started mixing up Indian, Indian-American, Arab, Muslim, and everything in between. It's (literarily) a most impressive display of dumb mixed with intolerance and even more stupidity. USA! USA! USA!
and to cover how inclusive the 'n' word is when it comes to your own ethnicity, Gov. Haley:
Sand nigger is up #missamerica
   — Chris Black (@ChrisBlack57) September 16, 2013
Don't you have to be American to win Miss AMERICA this bitch is some type of Indian

— BIG GLUTE CURL (@pow_pow65) September 16, 2013
We have a black president and an Asian Miss America. This ain't Merica no more guys.

— ♚Camille (@camillemixon) September 16, 2013
Well we all know Obama bought that pageant! — ♔♚TyAnn♚♔ (@tyann_m) September 16, 2013
HAHAHAH a black girl on Miss America gets voted off and they ask what she is gonna do when she gets back. her reply "GONNA EAT SOME KFCCCC"

— jade lynch (@jadee_lynchh) September 16, 2013




We have a black president and an Asian Miss America. This ain't Merica no more guys.

— ♚Camille (@camillemixon) September 16, 2013
and from the perpetually offensive and inaccurate conservative pandering Fox News talking head:
toddstarnes

✔

@toddstarnes
The liberal Miss America judges won't say this - but Miss Kansas lost because she actually represented American values.

#

missamerica

9:53 PM - 15 Sep 2013
So, other than establishing "you got yours", Governor Haley, please show us how your election in any way represents a deficiency of racism such that NOW it's ok to fly a symbol of historic through to PRESENT day racism?  You can't, because like a typical conservative, facts are not your friend.
I have to say, I'm particularly offended at
ugly white racism towards children
because when you can work up a good sweaty hate against children, then you really have some powerful hate going on.
That children from Indian families have dominated the National Spelling Bee for the past 15 years, give or take, is beyond dispute, MPR News reports. An Indian-American child has won every year for the past 7 years, and 11 of the past 15 years.
Unfortunately, that doesn't seem to sit very well with certain social media users, who have made racist posts — directed at children — about the Indian dominance of the Bee.
Grab a comfy ringside seat, pop some pop corn and sit back to watch the under-the-bus-throwing that is likely to take place next. Governo Haley is an inferior outsider to the racist GOP, and she is no longer being their good little token woman, toen minority puppet, so she will have to go; the only questions left are when and how. Apparently the local media have contacted every member of the South Carolina legislature, the folks Haley is expecting to 'do the right thing' -- and they are refusing to answer, much less declare they will accede to her request.  Reality is about to collide with pretend in the south.