... "My wife and I are soon to have a 'clean break' divorce. Her lawyer is wanting me to sign over the house in its entirety that I have paid for all my working life in exchange for not touching my pension."
There's no figures mentioned whatsoever to inform the advice.  But below the line, 'Just Retired' is winning the comments with 166 green arrows to 7 red.  Given that the correspondent mentions "the house in its entirety" and "all my working life" you'd have thought "his descendants" and "her descendants" would more than likely be the same people.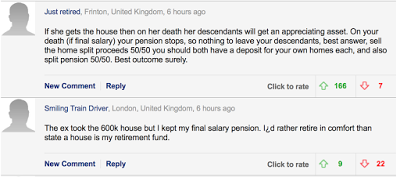 And the voting in these comments says it all.  
The fact the global equities have outperformed UK houses by about three to one seems to have completely passed them by.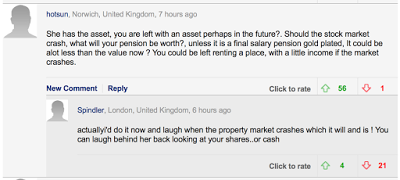 But presumably at the crux of the problem is that the man would find it impossible to buy anywhere to live if he had to start again.  And so would his ex-wife, which is why she wants the house and not the pension.  As for what his job is and where he lives we're in the dark.