The Future of DEADPOOL Is Marvel NOW!
Superstars Brian Posehn, Gerry Duggan, & Tony Moore  Take The Reins Of Marvel's Merc With A Mouth!
Press release
This November, Wade Wilson gets into a whole world of trouble like you've never seen before in Deadpool #1, kicking off the all-new ongoing series from the blockbuster creative team of writers & comedians Brian Posehn (The Sara Silverman Program), Gerry Duggan (Attack of the Show!, Infinite Horizon) and superstar artist Tony Moore (The Walking Dead)! As part of Marvel NOW!, Deadpool  joins a number of titles that will take the Marvel Universe in an exciting all-new direction, as the industry's top creators join the top Super Heroes to deliver all-new ongoing series, great for new and veteran readers alike!
Washington, D.C. is in turmoil when dead former U.S. Presidents – from George Washington to Gerald Ford – are resurrected and the heroes of the Marvel Universe can't be the ones to stop them! There's only one other person that has the reputation, skills, and plausible deniability to handle these com-monsters in chief…NOW! is the time for Deadpool! In Wade We Trust!
"Brian, Gerry & Tony are cooking up the most insane Deadpool story ever published," said Axel Alonso, Editor In Chief, Marvel Entertainment.  "Heroes will be ingested, chimichangas will be digested, dead presidents will be resurrected as the Merc with the Mouth collides with a who's who of Marvel Universe heroes, the world's unluckiest S.H.I.E.L.D. agent, and the most downright nasty zombies Tony Moore has ever drawn."
Marvel NOW! is the culmination of Marvel ReEvolution, the groundbreaking new initiative to evolve the comic book experience through innovation. With Deadpool, Marvel NOW! ensures fans will discover an entirely new perspective on the Merc with a Mouth.
"Deadpool is the scumbag we need. You don't want to see the Avengers take on these cherished pillars of American history. It becomes a little more palatable when it's Deadpool," explained Duggan in an interview with Marvel.com. "He's there strictly because SHIELD is giving him a pillowcase with a dollar sign on it filled with money."
"All your favorite presidents fighting Deadpool, what's not to like?" Posehn added.
Each issue of Deadpool features special augmented reality content available exclusive through the Marvel AR app – including cover recaps, behind the scenes features and more that add value to your reading experience at no additional cost.
"Not only does every book with the Marvel NOW! logo feature a new superstar creative team and blockbuster story, but they also come with all-new incentives for our retailer partners," explained David Gabriel, Senior Vice-President of Sales, Marvel Entertainment.. "We want to make sure every comic shop nationwide is fully stocked to meet the high demand we're already seeing for Marvel NOW! And want to make sure their voices are heard throughout this exciting time. Stay tuned for more news on how Marvel will be working directly with retailers to make sure our programs address their needs."
An all-new direction! All-new threats! All-new chimichangas! This is Deadpool NOW!
This November, Brian Posehn, Gerry Duggan, & Tony Moore bring new meaning to the name "Merc with a Mouth" in Deadpool #1!
For more on Marvel NOW!, please visit now.marvel.com and join the conversation on Twitter using #MarvelNOW
*Retailers should keep an eye on the Marvel Mailer and Diamond daily for special announcements concerning Marvel NOW!
DEADPOOL #1
Written by BRIAN POSEHN & GERRY DUGGAN
Art by TONY MOORE
Cover by GEOF DARROW
ON SALE THIS NOVEMBER!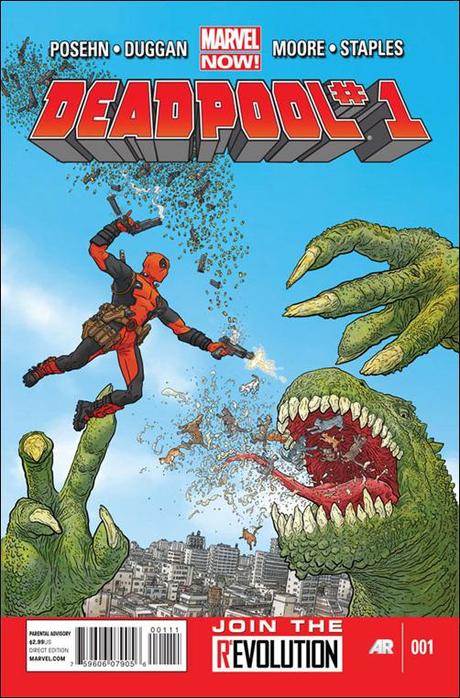 - The Comic Book Critic