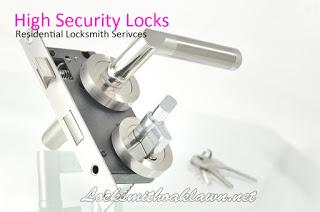 Homeowners everywhere are concerned about the safety and security of their property. Who wouldn't be? If you own the home, then you probably saved up for years to be able to afford it. At the very least, you have to work hard to make money every month to be able to pay off that mortgage. Homes don't come cheap and it takes a lot of work and effort to be able to afford one. Once you own your own property, you want to keep it safe. You don't want someone to have easy access to your property, unless of course it's someone you trust and want inside of your home. 
One way to add a layer of protection to your home is to consider the addition of deadbolts. There are many different options when it comes to deadbolts, which make them a good bet for homeowners. Best of all, deadbolts don't come with a hefty price tag, so they are affordable for the average property owner. Here, we will go over why deadbolts are a good option for homeowners. If you happen to be in Oak Lawn, IL or the surrounding area, Ruby Locksmith can help you out with any questions or concerns regarding deadbolts. We can even install them for you when you are ready. 
So, what are your options when it comes to deadbolts? Why exactly are they such a good option for those who own a home? Have a look at some of the popular options at your disposal.
Single Cylinder
Deadbolt
This is a type of deadbolt that many homeowners have. It is frequently seen at residences because it restricts access from outside of the property to people you don't want to have access. It's a basic type of lock that unlocks and locks from the outside with the use of a key. If you are trying access it from inside of a door you will be able to unlock and/or lock the door using a metal latch.
Double Cylinder Deadbolt
Double cylinder deadbolt is slightly more complex in nature than a single cylinder deadbolt. They come with a key and you have the ability to both unlock and lock the door from the outside and from the inside. It is generally considered popular, but there are situations in which there are drawbacks. For example, if people are trying to evacuate your home during an emergency, it can cause a few extra seconds of fumbling around to get out.
Keyless Entry Deadbolt
Keyless is becoming more and more popular these days. Why? Well, it prevents the need to have a key which is a plus to many people. With a keyless deadbolt, one utilizes a numeric keypad to gain access to their property. Entering a passcode or certain digits allow one to unlock and lock their door. Sometimes, keyless entry deadbolts even come with a remote control. This is something you'd see frequently when it comes to cars. Where else might one see keyless entry deadbolts? On a safe! This is made for the convenience of those who own a safe. One thing you will find is that a keyless deadbolt costs a bit more than other deadbolts. 
Click this link to Read more of this Article