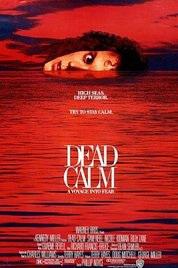 Director: Phillip Noyce
Writer: Terry Hayes (Screenplay) Charles Williams (Novel)
Starring: Nicole Kidman, Sam Neill, Billy Zane, Rod Mullinar, Joshua Tilden
Plot: After a tragedy, John Ingram and his wife Rae spend some time isolated at sea when they come along a stranger who has abandoned a sinking ship.
There may be spoilers the rest of the review
Verdict: Suspenseful
Story: Dead Calm starts when married couple Rae (Kidman) and John (Neill) suffer the personal tragedy when their son is killed in a car accident. To cope with the loss, the two head out to sea to get away from the world and grieve in their own way.
The couple's peace is broken when lone survivor Hughie Warriner (Zane) whose crew have all died as the couple agree to help the stranded sailor. Whilst investigating Hughie's boat John learns the truth about this man whose sinister side takes over as he takes control of their ship kidnapping Rae along the way. The film becomes a battle for survival from Rae point of view and John must repair the damaged boat to have any chance of saving the day.
Dead Calm keeps the story short and sweet never trying to be anything more than it needs to. We never find anything getting confusing with the most part just being a fight for survival be it on a damaged boat or stay one step ahead of a mad man. This really does make this easy to follow.
Actor Review
Nicole Kidman: Rae is dealing with the loss of her son in a car accident where she was also badly injured in. she joins her husband on their yacht sailing around the Pacific but her time of grieving is interrupted when she finds herself being held captive by Hughie. Nicole is great in this role showing a strong female character through the ordeal she finds herself in.
Sam Neill: John is the husband of Rae who just so happens to be a sailor, he takes her away to grieve the loss of their son only to find himself in a race against time using all of his skills to save from the hands of a mad man. Sam is good considering he has to spend most of the film alone.
Billy Zane: Hughie is the lone survivor from another yacht claiming his crew all died but soon we learn about his dark side as he has always been planning to hijack the next boat he came across with Rae as his prisoner. I do feel this character could have been even darker than what we got. Billy is good in this role but I feel we did need to see slightly more twisted in his character.
Support Cast: Dead Calm really doesn't have anyone else truly involved with most extra characters only appearing in an odd scene.
Director Review: Phillip Noyce – Phillip gives us a tense thriller that keeps us on edge throughout.
Thriller: Dead Calm does keep us on edge throughout because we know just how stranded the characters are through the situation.
Settings: Dead Calm puts our characters in the middle of the ocean which shows us there is nowhere they can go to escape what is happening, perfect us of setting.
Special Effects: Dead Calm has good effects when needed with most just really being used sparingly.
Suggestion: Dead Calm is one I would recommend seeing as it does everything you need it to do as a thriller. (Watch)
Best Part: Tension building.
Worst Part: A certain death.
Believability: No
Chances of Tears: No
Chances of Sequel: No
Post Credits Scene: No
Oscar Chances: No
Runtime: 1 Hour 36 Minutes
Tagline: High Seas. Deep Terror.
Overall: Suspense filled thriller.
Rating