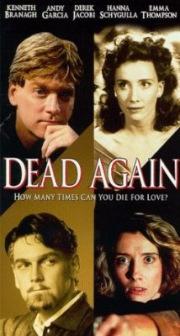 Director: Kenneth Branagh
Writer: Scott Frank (Screenplay)
Starring: Kenneth Branagh, Andy Garcia, Derek Jacobi, Wayne Knight, Hanna Schygulla, Campbell Scott, Emma Thompson, Robin Williams
Plot: Mike Church is a Los Angeles private detective who specializes in finding missing persons. He takes on the case of a mystery woman who he calls Grace. She is suffering from amnesia and has no memories of her own. She keeps having nightmares involving the murder of a pianist, Margaret, by her husband Roman Strauss in the late 1940s. In an attempt to solve the mystery about these nightmares, Church seeks the help of Madson who is an antiques dealer with the gift of hypnosis. The hypnosis sessions will soon begin to reveal some surprises.
There may be spoilers the rest of the review
Verdict: Ever Lasting Love
Story: Dead Again starts by showing us headlines about Margaret Strauss (Thompson) death and that her husband Roman (Branagh) gets arrested for the crime. Roman is put to death for the crime but leaves with one message to reporter Gray Baker (Garcia) his message is simple that he loved his wife.
Move to the present day Grace (Thompson) a young woman who has no memory and constant nightmares staying in a church, they want her out and call private investigator Mike Church (Branagh). Starting his search Mike has to take Grace back to his own place but with Grace's photo placed in the paper hoping to find someone who knows her. Hypnotist Franklyn Madson (Jacobi) offers to try and help try and find the truth.
Under hypnosis Grace recounts the story of Margaret meeting Roman, we also learn the Franklyn uses his hypnosis to take advantage of people who recount previous lives searching for antiques. As the search for answers continues Grace and Mike end up in entering into a whirlwind romance but as they look back in time we learn the truth about what really happened between the Strauss's'.
Dead Again manages to mix up a romantic story into a mystery about false accusation leading to a 'who done it' style film. It keeps us guessing along the way and throws out a few twists here and there. I have to say this is a very interesting story that talks about everlasting love between people through generation. It manages to balance the two time periods well and having one in color and the past in black and white. This is one film that was enjoyable and the story is actually original too. (8/10)
Actor Review
Kenneth Branagh: Roman Strauss/ Mike Church, Roman was a convicted murderer of his wife Margaret while Mike is trying to help Grace find out who she really is, but he soon discovers that his connection with the past could happen again. Kenneth does a good job in the twin roles showing two different types of characters well. (7/10)
Emma Thompson: Grace/ Margaret Strauss, Margaret was the victim of the crime while Grace is a woman with no memory about who she is but after meeting Church it becomes apparent the two have a connection from the past. Emma does a good job in the dual roles. (7/10)
Andy Garcia: Gray Baker reporter from the murder case who was friends with Margaret and was the reason jealous took over Roman. Andy does a good job in his role which spans over the time of both stories and when you see the older version of him you won't forget it. (7/10)
Derek Jacobi: Franklyn Madson hypnotist who is trying to help Grace discover who she really is but he also ends up using his technique to find antiques. Derek comes off as an interesting character that he does a good job with. (7/10)
Support Cast: Dead Again has a support cast in both time frames that help uncover the truth to both stories.
Director Review: Kenneth Branagh – Kenneth does a good job directing by balancing the stories together well. (7/10)
Mystery: Dead Again does keep you wondering to what really happened and who Grace really is. (8/10)
Thriller: Dead Again doesn't keep you on the edge of your seat though. (5/10)
Settings: Dead Again uses its two time periods really well to help the story continue on. (8/10)
Suggestion: Dead Again is one to try, if you like a mystery this one would be worth a go. (Try It)
Best Part: One pure creepiness meeting Baker when he is old.
Worst Part: It is pretty easy to work out what is going on.
Believability: No (0/10)
Chances of Tears: No (0/10)
Chances of Sequel: No
Post Credits Scene: No
Awards: Nominated for Best Original Score at Golden Globes and BAFTAs.
Oscar Chances: No
Box Office: $38 Million
Budget: $15 Million
Runtime: 1 Hour 47 Minutes
Tagline: A Mystery About True Love…And Certain Death.
Overall: Easy to watch, easy to follow, easy to work out mystery thriller
Rating