__________________________________________________________________________________________________
Occasionally I leave the office and eat my lunch at home. I get to spend an hour away from the LAP compound (where the microwave still hasn't been repaired since Chowderhead's famous Chef Boyardee incident) [Editor's Note:  it was a faulty fuse], plus I get the added bonus of catching a few minutes of daytime TV.
Sometimes though, no matter how many times you change the channel, daytime TV makes you stupider by the minute.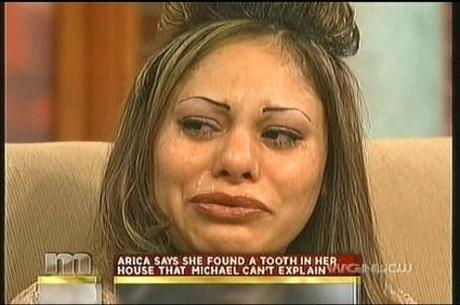 – POWER ON –
"…and our guest today is 20-year-old Janet, a mother of seven, who is here today to confront her cheating boyfriend and ask him once and for all if he has…"
– CLICK –
"…poor credit, no credit, or bad credit? No problem! Come on down to Wacky Jerry's Used Car Emporium and we'll get you on the road! Visit Wacky Jerry, and before you know it you'll be…"
– CLICK –
"…injured in a car accident, and you may be entitled to a cash settlement. Don't wait. Call the law offices of Will Soodeirass and Associates today…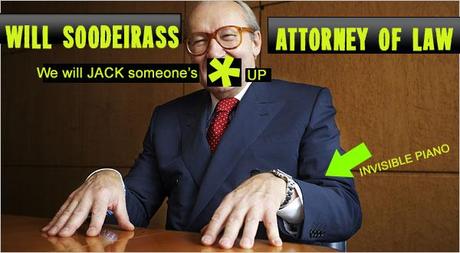 …and speak to one of our highly qualified, very serious sounding representatives, who will help you…"
– CLICK –
"…sue her, Judge Judy. I had no choice. The ring is worth about one hundred and twenty dollars plus the money I got for all those empties I recycled, but when she caught me in the backseat of my Honda Civic with her cousin, she called the wedding off. I told her if she didn't give the ring back I'd have no choice but to…"
– CLICK –
"…go now to the sixteenth, where Berkelson is lining up a fourteen-footer for birdie. He's got a real tester here, Gary. The green slopes sharply downhill and to the left, and with this dry weather we're likely to see…"
– CLICK –
"…that rat bastard in the bathroom BEEEEEP-ing that hairy slut who said she was my best friend. Well, I dropped my bingo dabber and charged at that BEEEEEEP, grabbed her by the ponytail and said…"
– CLICK –
"…are you looking for a new career? Then you owe it to yourself to call this number today. We'll send you our free brochure filled with glossy pictures of successful-looking people explaining how in less than four months you can start a brand new career as an…"
– CLICK –
"…old, smelly, worn out mattress. That is, until I called and ordered this new E-Z-SLEEP adjustable bed. I may be a has-been actress who now makes a living doing crummy daytime infomercials, but I can choose from one of over two thousand comfortable positions to sleep…"
– CLICK –
"…in the back lot at Wacky Jerry's Used Car Emporium, where we accept all trade-ins! Big ones, small ones, rusty ones…heck, it doesn't even have to belong to you! Push, pull, or drag in your old junker and we'll give you cash, cash, cash! This is Wacky Jerry and I want to tell you that…"
– CLICK –
"…the ring is mine, your honor. It's his fault the wedding was cancelled, so I get to keep the ring. My friend's cousin is thinking about being a lawyer when he gets out of prison and he told me that I could keep the ring, the lava lamp, the Lynyrd Skynyrd box set, and…"
– CLICK –
"…a titanium, diamond-studded putter with an extra-long, flexible graphite shaft  [Editor's Note:  he said 'flexible shaft'], which he says has really turned his game around. I had a chance to speak with Berkelson this morning on the practice range, and he told me that when he lines up each putt, he visualizes…"
– CLICK –
"…a brand new career as a dental hygienist, an automobile mechanic, a computer programmer, a legal secretary, a neurosurgeon, an obscene greeting card writer, a medical office assistant, a long-haul truck driver, a professional beekeeper, a private detective, a graphic designer, an interior decorator, or…"
– CLICK –
"…a lawyer who won't stop working until you get paid. Doctors are human, and they make mistakes. At the law offices of Will Soodeirass and Associates, we make them pay. Call us today and…"
– CLICK –
"…we'll throw in this luxurious inflatable reading pillow as a free gift, just for trying out the E-Z-SLEEP adjustable mattress. If for any reason you're not completely satisfied, just return the mattress to us with no obligation, and you can…"
– CLICK –
"…GO BEEEEP YOURSELF, YOU FAT, IGNORANT PIECE OF WHALE BEEEEEEP! YOU CAN KEEP HIM! AND IF I EVER SEE EITHER ONE OF YOU ON THE STREET, I'M GONNA PUT MY FOOT UP YOUR BEEEP BEEEEEEEEEP BEEEEEEEEP BEEEEEEP…"
– POWER OFF –
*Sigh*.
I guess there's always Burger King.