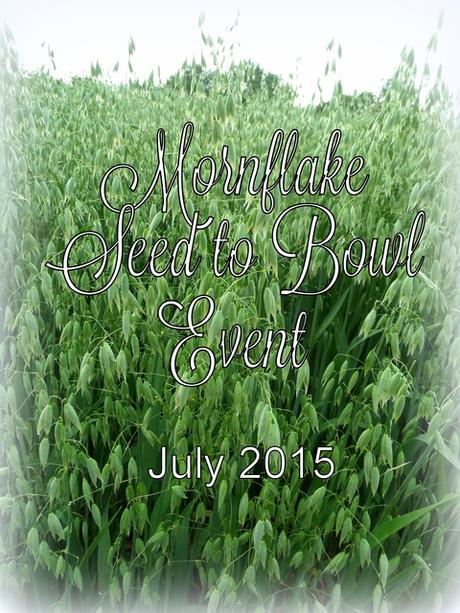 I am so excited today to be able to tell you about the most fabulous adventure I had just two weeks ago today.  It was something I had been looking forward to for a couple of months now!    In my role as a food blogger,  I am often invited to attend special events.  I don't always accept these invitations . . .  more often than not they are held too far away from where I live, (which requires too many train changes and a lengthy travel time) or they are held in the evening and being too far away (which requires a hotel stay, etc.) or they are not interested in covering the cost of my travel.  All no no's in my book.  As I also have Osteo Arthritis, I usually want Todd to come with me when I travel nowadays as well.   The Mornflake Seed to Bowl Event ticked all the boxes for me.  It wasn't being held too far away, so travel would be easy.   It was at the right time of day . . . and more importantly  they didn't mind Todd coming with me at all . . .  and they were more than happy to cover the cost of our travel both to and from the event.   I am always keenly interested in learning all of the aspects concerning the growth, provenance and production of the foods which we like to eat.  Seed to Bowl . . .  an event put on by the people at Mornflake . . .  promised to take us from the initial growth of the oats all the way to the way it gets processed and fit for consumption.  A trip to the Mornflake Mill in Crewe was just the ticket!



I am no stranger to the Mornflake brand of oats. They have been my oats of choice for quite a while now. I am very fond of their old fashioned Rolled Oats. I like the big flakes and chewy nutty texture. Mornflake been milling oats in the South Cheshire countryside since 1675, making them the longest established miller of oats and cereal in the UK, the business being handed down through fifteen generations of the Lea family. As one of the few remaining, independent, major, family-owned British cereal businesses they are passionate about what they do. Mornflake is actually one of the few cereal brands which selects, mills and packs everything into each box of cereal that is sold. They are comitted to Provenance and take great care to ensure that only the finest blend of the Oat harvest is included in every box of Mornflake cereal and that each box can be traced with exactness right back to where it originated . . . in a field. This promised to be a very exciting day for us indeed.
(And to top it off, it was the hottest 1st of July on record!  IT was win/win all around!)
 

It was a very quick and simple train journey to Crewe (Where the Mornflake Mill is located)  from Chester. (Crewe is actually very close.) A coach was waiting for us at the station and we were driven to the  Mill, where we were warmly welcomed with teas/coffees/water/juice and all of the bloggers were able to get acquainted with each other and Maria (that's their PR girl in the pink apron at the front) filled us in on what our itinerary of the day was going to be. (Maria was my contact with Mornflake throughout this whole experience, and I have to say, she was a real gem. Very friendly and helpful every step of the way. I think the Mornflake people are really blessed to have her on board.)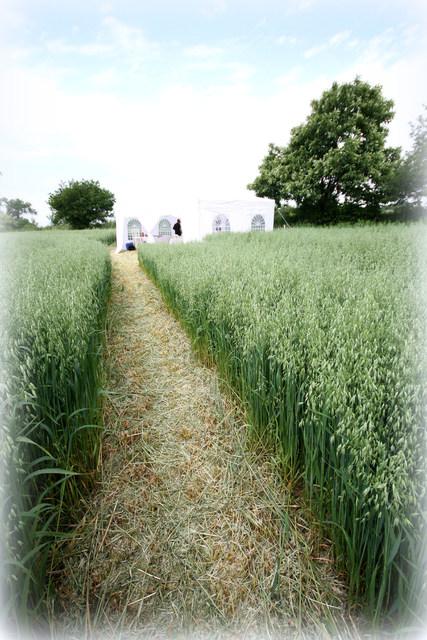 After being warmly welcomed,  and once everyone had arrived . . .   we were transported via coach to one of the nearby farms (Rushton Farm, owned by Liz and Hartley Rushton) which grow some of the Oats for Mornflake for a beautiful breakfast in an Oat Field. (They have oats being grown all over the UK, including Gluten Free Oats on a remote Island in the North of Scotland.) Being treated to breakfast in an oat field was a first for me. A pathway had been cut through the oats leading to a Marquis right in the middle of the field. We were in for a real treat!


The area was so very beautiful with nothing but oats and trees to be seen for what seemed like miles and miles.  I loved this old tractor which greeted us.  It was just so cheerful!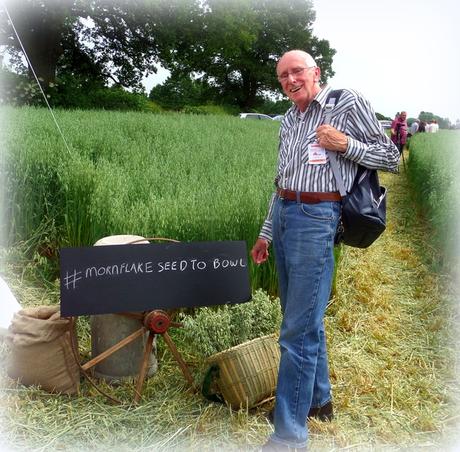 Todd was right in his glory!  Having worked on farms for most of his adult life, he really enjoys these farm excursions!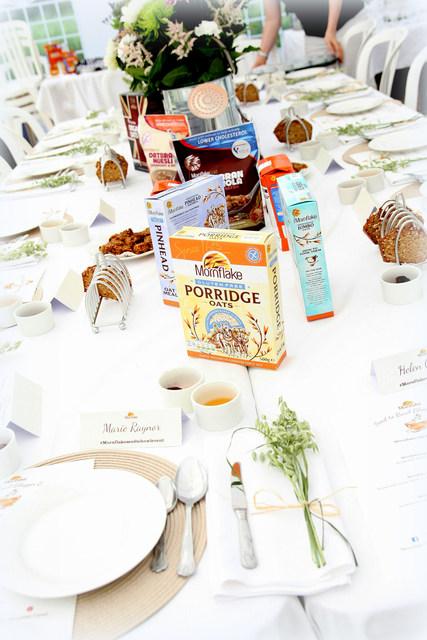 A Marquis was set up in the middle of the oatfield,  containing a beautifully set table, showcasing some of the Mornflake products and with individual place cards, and a cute little sheaf of oats decorating each place setting.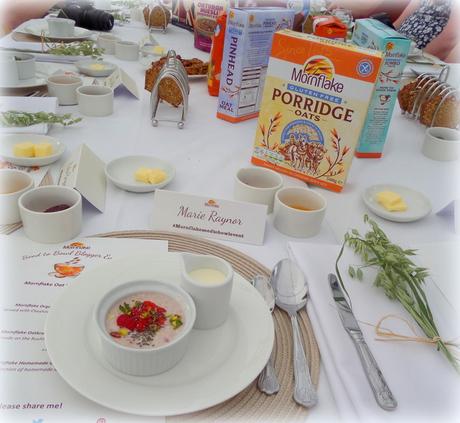 It truly was a gorgeous atmosphere and presentation.  We were treated to a lovely breakfast  which began with a tasty little pot of Bircher Muesli, which was made with Mornflake Organic Oats and served with local Cheshire Strawberries and fresh cream.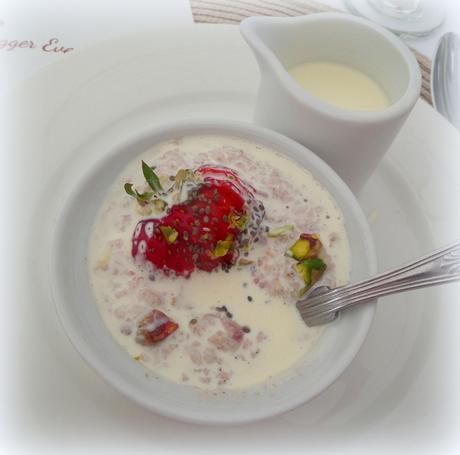 It was also topped with a sprinkling of chopped Pistachio nuts and was absolutely delicious. I really enjoyed it very much.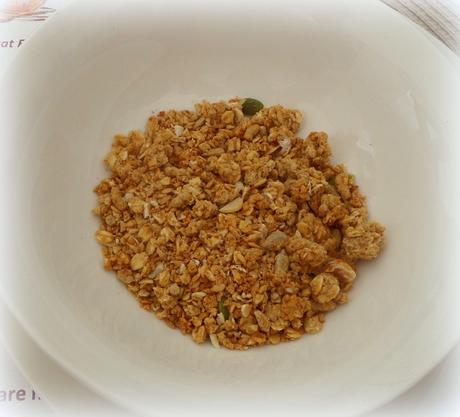 Next up was a tasty serving of the Mornflake  Oat-bran Nuts & Seeds Granola, served with honey produced on the Rushton Farm, fresh fruit and Greek Yogurt . . .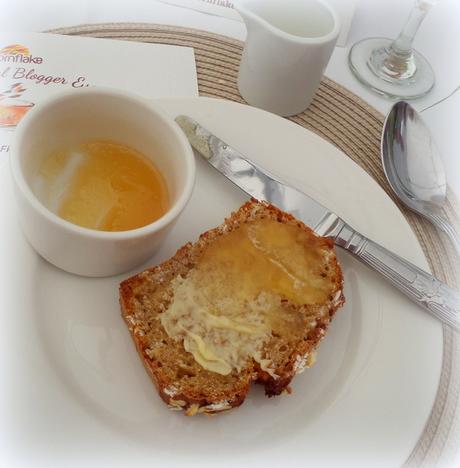 This was accompanied by a homemade Oaty Soda Bread served with a delicious selection of homemade local jams and marmalade. It was all very, very delicious!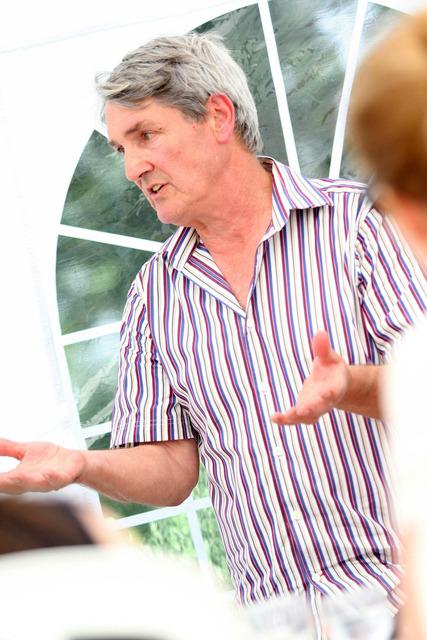 Hartley took us through all the ins and outs of growing oats. We learned from him everything there was to know about the oat growing process . . . from the moment  seeds go into  the ground to the time of harvest. He was very informative and willing to answer all of our questions.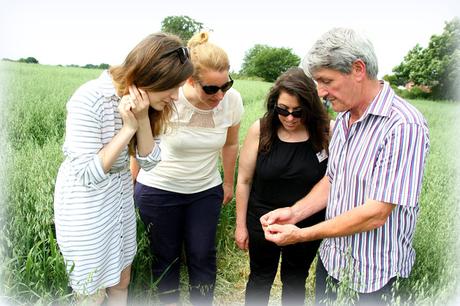 I, for one, really learned a lot. That is one aspect of these trips that I really enjoy. I love knowing how the food I eat is grown and getting to learn a bit about the people and farms that grow it, and I am especially interested in the Provenance of the things I eat.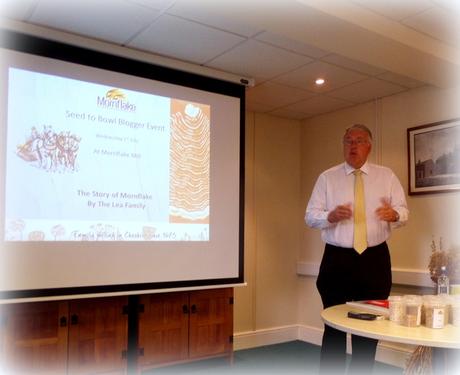 After breakfast we were taken back to the Mill,  where we were priviledged to learn more about Oats itself and the history of the Mornflake Mill given to us by the present generation of the Lea family. It was really very informative.
At Mornflake they've been milling oats in the South Cheshire countryside since 1675, making them the longest established miller of oats and cereal in the UK! 15 generations later, they are still independently owned and managed by the direct descendants of the original miller, William Lea.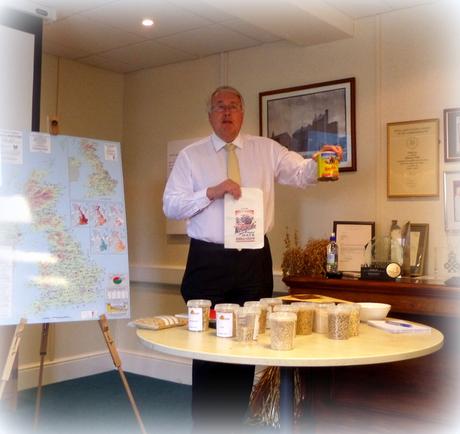 I really enjoyed this part of the visit as well.  The production of what we eat has always fascinated me. (Yes, I

am

one of those people who sits and ponders what was going through the mind of the first person who decided eggs were good to eat  . . .  and just how and who invented the first cake., and why.  The history of food is one of my great loves.)
We were also treated to a type of "Tea" meal, with finger sandwiches and other odds and sodds.   All very tasty indeed.
After that we were all kitted out in protective gear so that we could have an actual tour of the Mill itself and experience what goes into the production of their cereals right from it coming from off the delivery lorries and into the mill . . . and down into the boxes and packages which land on our grocery shop shelves. Cameras were not allow in this area due to safety concerns. Lets just say that it was hot, very informative, noisy and I never walked up so many flights of stairs in my life. I finally had to give up after about 12 flights because my arthritic knees would not go any further, but what I did see was very interesting and Todd finished up the tour for me.
 All too soon it was time for us to go home.   Mornflake presented us with a lovely bag filled with their products and we were taken back to the train station and on our way back to Chester in good time, having enjoyed a lovely, lovely day.

The Mornflake Seed To Bowl Event from Warble Media on Vimeo.
This is a fab video which was created from the day that I am sure you will enjoy watching.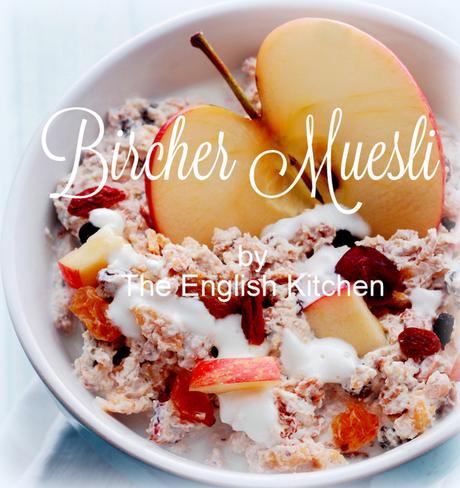 I was really keen to recreate the Bircher Meusli we had enjoyed at the farm, and so I made some for us one morning last week. I had never eaten Bircher Meusli prior to this event, but became an instant fan!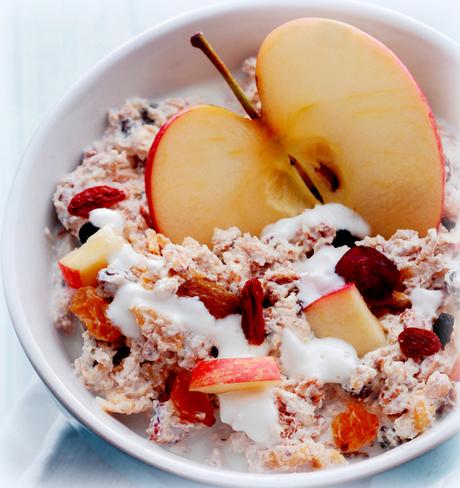 *Bircher Muesli*Serves 1Printable Recipe The quantities given are for one serving, but this can easily be multiplied to serve more.   If you want you can mix all the ingredients into a small storage bowl which has a tight lid, creating a portable breakfast which you can eat on the go.  it really is delicious.   You can vary the fruit and the nuts. 
1/2 apple, peeled, cored and grated40g of Mornflake Scottish Jumbo Oats (about 1/2 cup)120ml of apple juice (1/2 cup)60ml of natural yoghurt (1/4 cup)1/2 TBS flaked almondspinch cinnamon 
Combine all of the ingredients in a pudding bowl and stir well.  Cover and refrigerate for at least one hour, but preferably overnight. 
Note - this is delicious served with any variety of fresh fruit.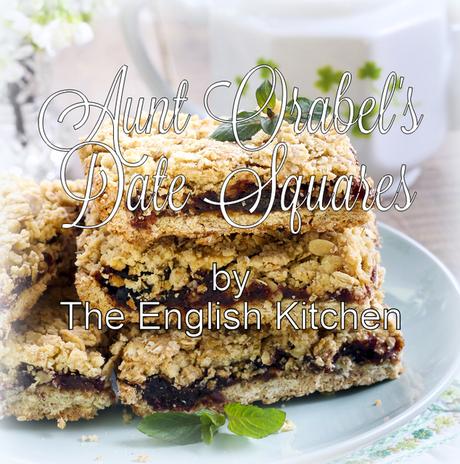 Another favorite thing for me to do with oatmeal is make Date Squares.   This is my Aunt Orabel's recipe.  Well, she was my mother's Aunt really  . . .  sister of my Grandmother and my Great Aunt.   She made wonderful dougnuts!  These squares are just fabulous  . . .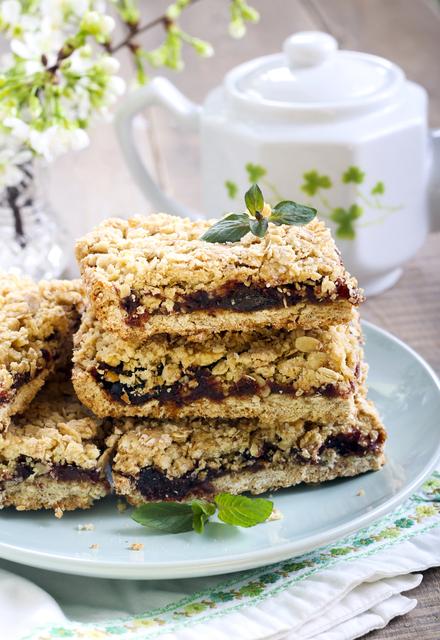 *Aunt Orabel's Date Squares*
Makes 16
Printable Recipe 
These were always a childhood favorite and remain so to this day. I try to tell myself when I am eating one of these that they are good for me. Dates and oats can't be bad can they? In some circles these are also known as "Matrimonial Bars." I have no idea why!
2 cups chopped dates (302g)
2 TBS brown sugar
1 cup boiling water (225ml)
1 cup plain flour (140g)
½ tsp baking soda
1/8 tsp salt
¾ cup butter (190g)
1 cup packed light soft brown sugar (201g)
2 cups Mornflake oats (not instant) (160g)
(I like the old fashioned large flakes)
Pre-heat the oven to 160*C/350*F. Lightly butter an 8 or 9 inch square baking tin and set it aside.
Put the dates into a saucepan along with the first amount of brown sugar and the boiling water. Bring the mixture to the boil and then simmer for about five minutes, until the dates are soft and smooth and most of the water has been absorbed. Mash with a fork and set aside.
Put the flour, soda, salt and brown sugar into a large bowl and give them a good mix together. Rub in the butter until it resembles coarse crumbs. Stir in the oats and give them a bit of a rub again to mix well. The mixture should stay quite crumbly.
Put half of the crumbs into the prepared pan and press it down evenly. Spread the cooked date mixture evenly over top of it, then sprinkle the remaining crumbs evenly over top. Press them down very lightly to even them out.
Bake in the heated oven for 25 minutes, until set and lightly browned. Remove from the oven to a wire rack to cook before cutting into squares to serve.


Not only do I like to cook with fresh oats, but I also like to do tasty things with leftover cooked oats.  In face I often cook extra oats just so that I can cook these deliciously tasty Oatmeal Muffins!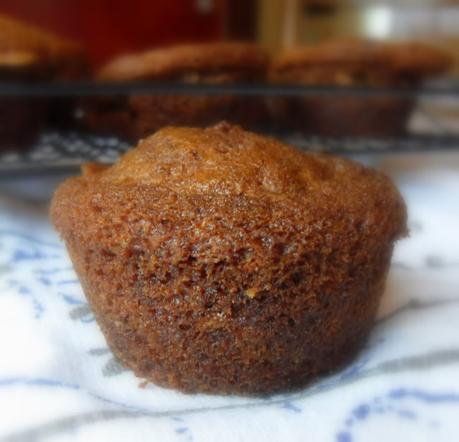 Hands down they have to be my absolute favorite Oatmeal Muffin of all time. I've tried lots of different ones . . . but I always come back to this recipe. These muffins are moist and stogged full of raisins and nuts, with just enough spice and vanilla to make them oh so scrummy delish. They make great use of leftover oatmeal so you need never throw out any that's left in the pot after the family has eaten ever, ever again.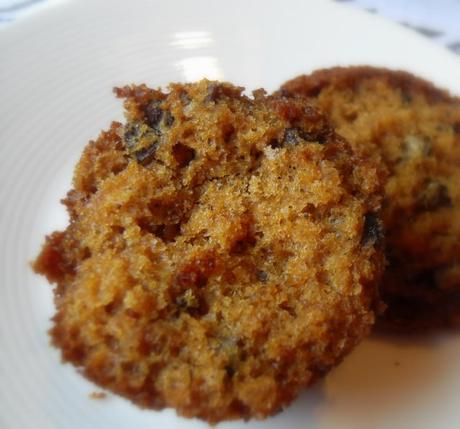 *Breakfast Oatmeal Muffins*
Makes 12
Printable Recipe
These muffins are a great way of using up leftover cooked oatmeal.  I often cook extra oatmeal for breakfast so that I can treat us to a batch of these the day after!
100g of plain flour (1 cup)
200g of soft light brown sugar (1 cup packed)
1 tsp baking powder
1 tsp bicarbonate of soda
1/2 tsp cinnamon
1/4 tsp grated nutmeg
125ml of vegetable oil (1/2 cup)
2 large free range eggs beaten
180g of leftover cooked oatmeal cereal (about 1 cup)
(Mornflake of course!)
150g of raisins (1 cup)
1/2 cup toasted chopped pecans (optional)
1 tsp vanilla
Preheat the oven to 180*C/350*F/ gas mark 4.  Grease a 12 cup medium muffin tin very well.  Set aside.
Whisk together the flour, sugar, baking powder, soda, cinnamon and nutmeg.  Whisk together the leftover oatmeal, eggs, and vanilla.  Stir the wet ingredients into the dry ingredients only to moisten.  Fold in the raisins and nuts (if using).  Spoon into the greased muffin cups, dividing the batter evenly amongst them.
Bake for 18 minutes, until well risen and a toothpick inserted into the center comes out clean.  Let sit in the pan for about 5 minutes before turning out onto a wire rack to cool somewhat before eating.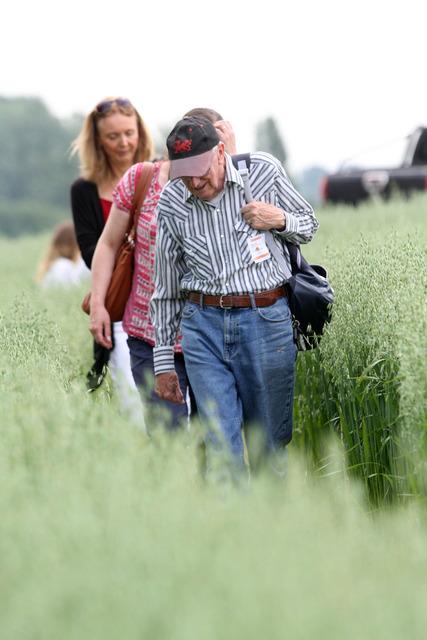 I have to say that this was one of the nicer blogger experiences I have had, second only to the Turkey Awards (and I don't think anything will ever top that!). We were treated with such courtesy and genuine appreciation for what we as bloggers do. It was informative and just a really top, top experience. Every detail was well planned and organized and Todd and I both just really, really enjoyed our day!
Many thanks to the people at Mornflake for providing us with what will in all likelihood be one of the highlights of our 2015 summer! With special thanks to Maria, for all that she did to make it happen, and happen so smoothly! You're a treasure!
Follow Mornflake on Twitter
Follow Mornflake on Facebook  Mornflake on Pinterest
Mornflake on YouTube