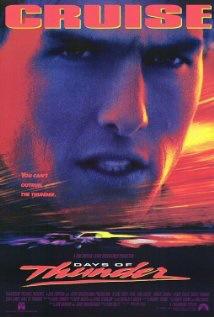 Director: Tony Scott
Writer: Robert Towne (Screenplay) Robert Towne, Tom Cruise (Story)
Starring: Tom Cruise, Nicole Kidman, Robert Duvall, Randy Quaid, Cary Elwes, Michael Rooker, Fred Dalton Thompson, John C Reilly
Plot: A young hot-shot stock car driver gets his chance to compete at the top level.
There may be spoilers the rest of the review
Verdict: Classic Sports Thriller
Story: Days of Thunder starts when Tim Daland (Quaid) comes to experienced mechanic Harry Hogge (Duvall) to build him a car with a brand new driver Cole Trickle (Cruise). When Cole turns out to have brilliant pace Harry comes back into the game but things don't go smoothly to start with as the two clash. Putting their differences aside Cole gets taught the does and don'ts of driving to keep Tim happy and most importantly competitive.
When Cole finally starts winning he goes head to head with the best driver on the circuit Rowdy Burns (Rooker) which leads to both being involved in a crash leaving them both in the hospital. The two get slammed by the owners of Nascar but build on mutual respect as they have to win the owner back over to get back on the track while Cole gets into a romance with Doctor Lewicki (Kidman).
When Harry decides to start a new team with a new driver Russ Wheeler (Elwes) he pushes Cole the wrong way as he deals with the consequences of the previous accident with his new friend Rowdy struggling to get back behind the wheel.
Days of Thunder sums up a fun enjoyable sports drama though one of the most intense sports around today. We do get to look at side effects from sports which is important because we all know things could go wrong. We all know how the sports dramas will end so the ending is no surprise for us. The love angle does seem kind of forced upon us but when it comes to the racing everything comes off enjoyable.
Actor Review
Tom Cruise: Cole Trickle is the hot shot young racer who gets his chance in Nascar with a new team, he starts by making plenty of mistakes until he listens to his mechanic who teaches him to turn in pace into finishing races off. He becomes one of the main contenders to be champion but is his style going to be too reckless for the sport. Tom shows that he was on the way to becoming a superstar in Hollywood.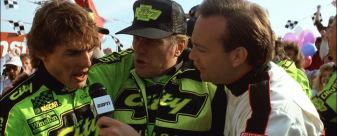 Nicole Kidman: Dr Claire Lewicki is one of the doctors who helps after the accident, she becomes the love interest of Cole as she has to help both drivers get back on the track. Nicole does a solid job but almost gets put on the back burner.
Robert Duvall: Harry Hogge is the mechanic who builds the car, teaches Cole about racing with all of his years' experience. He becomes like a father to Cole when the team starts clashing against the owner. Robert proves he is the serial supporting actor with this great performance here.
Randy Quaid: Tim Daland is the owner of the team but he gets greedy and starts a second team which leads to clash between Cole and new team with hot shot racer Russ Wheeler. Randy gives us a solid supporting that is almost the villain but all businessman style throughout.
Cary Elwes: Russ Wheeler is a new rival driver who pushes Cole the wrong way leading to him becoming the new favorite in the world of Nascar and his owner Harry. Cary only has a small supporting role but becomes the smug racer well.
Michael Rooker: Rowdy Burns is the experience driver who starts out as a rival but soon becomes best friends on the track after their accident, this accident leads to the two having to deal with the consequences with accidents in the sport. Michael gives the best performance and could be the most interesting character in the film.
Support Cast: Days of Thunder has some big names in supporting roles that all make this feel like they are all part of the racing world.
Director Review: Tony Scott – Tony gives us a good enjoyable film that is fun to watch.
Action: Days of Thunder has all sports action here.
Sports: Days of Thunder is filled with sports drama from start to finish with edge of your seat action being used.
Settings: Days of Thunder creates the settings to make us part of the action throughout.
Suggestion: Days of Thunder is one for all the action fans to enjoy and is you love racing this is one for you to watch for sure. (Racing Fans Watch)
Best Part: Race sequences.
Worst Part: Love story.
Action Scene Of The Film: Final race.
Believability: Loosely based on a real driver and you can see elements being real.
Chances of Tears: No
Chances of Sequel: No
Post Credits Scene: No
Oscar Chances: Nominated for an Oscar
Box Office: $82,7 Million
Budget: $60 Million
Runtime: 1 Hour 47 Minutes
Tagline: Cruise like Thunder.
Overall: Great racing drama film that keeps you on the edge of your seat
Rating