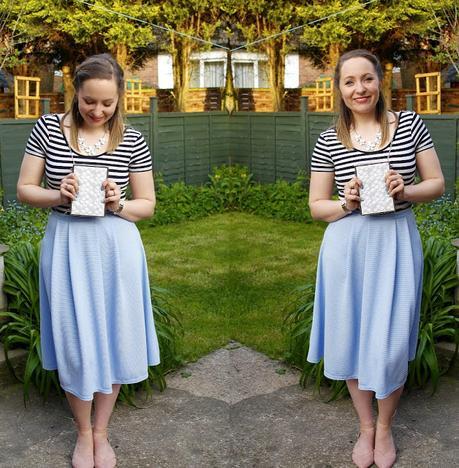 Spring has finally sprung! I am actually able to peg my washing out without fear for it being blown over the fence in a gale, or being fetched inside in a panic from a sudden monsoon downpour.  Alright so I can't really say a downpour might still not happen, but we have definitely had sun and today I did not need a coat... at all!
Bees buzzed past me earlier and as we decided to have our very first meal outside, I felt sure this was a good time to show you my recent spring style look for both day and night. A look that with just some tiny changes can actually work for both...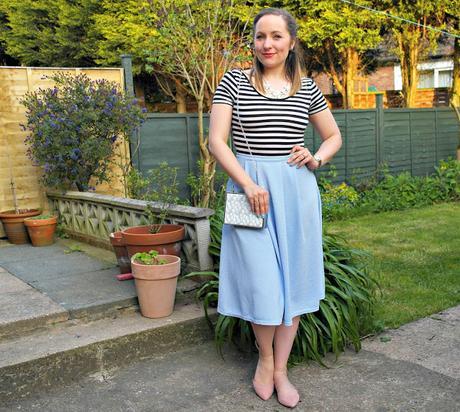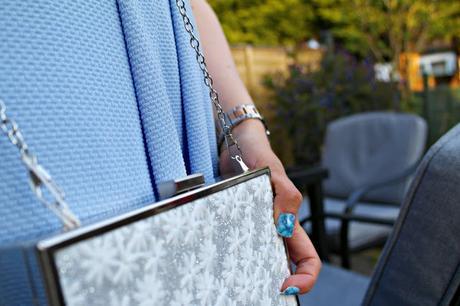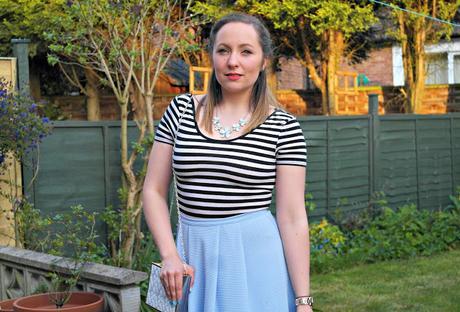 New Look challenged me to put together an outfit which could work from day to night. I chose a few of their items (skirt, shoes and bag) then used a few of my own to create the looks. I'm a huge fan of a midi skirt so obviously as soon as I knew they would be hitting the shelves I grabbed this blue one  Gorgeous blue don't you think? All I've done is simply teamed it with a black and white stripped body and some blush point flat pumps for a super chic vibe. The clutch is a bit too glam for a day time affair but I somehow felt using the chain strap made it a bit more casual, and simply using it minus the chain as a clutch worked perfectly for an evening.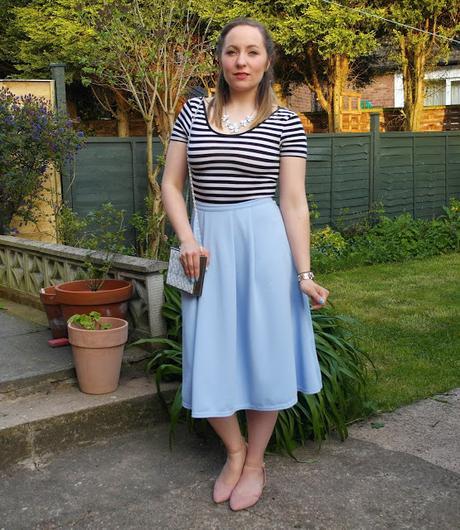 Top // SOLD OUT Similar - River Island Black Stripe Bodysuit Skirt // New Look Textured Midi Skirt* Bag // New Look Floral Box Stitch Clutch* Shoes // New Look Stone Cut Out Strap Pumps Necklace // New Look Flower Necklace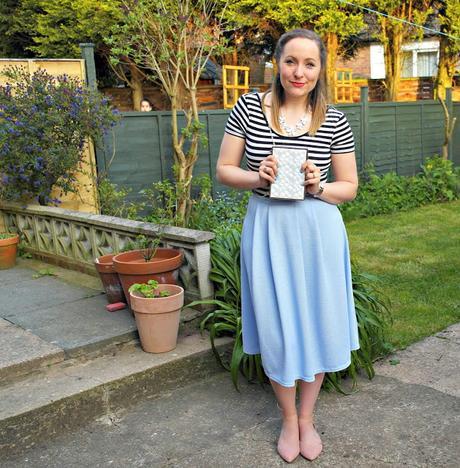 I have just braided my hair together and pinned it back for a cute/dainty look. I love stripes especially with a block color midi skirt. This was really comfy to wear and looked like I'd made some kind of an effort, especially as I do spend a vast amount of my time camped out in some kind of gym attire! What do you think of my daytime look?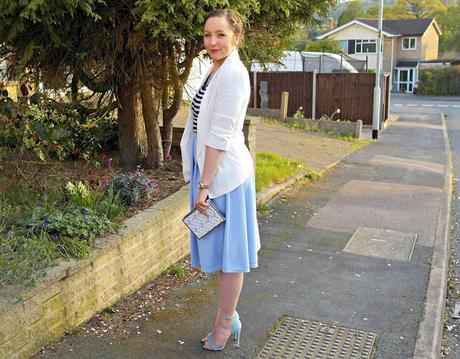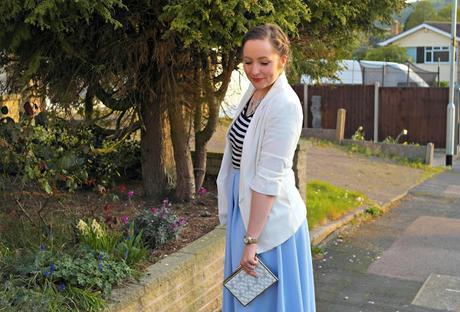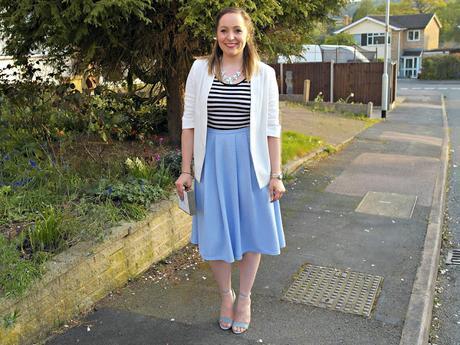 Heels // New Look Pale Blue Suedette Sandal Heels* Jacket // F&F Textured Ruched Sleeve Suit Jacket Watch// Caravelle NYC Chronograph Watch*
For night time as you can see not a drastic amount has changed apart from the fact I've grown, and I've gained a jacket. I originally pinned my hair up for this part of the shoot (see first two evening pictures) but decided to pull it out for no particular reason! The jacket is a recent purchase from F&F as I figured a white or light coloured jacket might be a wise move, and those beautiful scrappy stiletto sandals were in the sale and I also bought the necklace from New Look which is actually in the day time look too.
Ta-da! What do you think of my evening ensemble? This is my 'I'm off for a cheeky prosecco with my girls' look. I can imagine it now... bubbles, olives and lots of gossiping!
Happy springtime lovelies hope you're lapping up the sunshine as much as me!