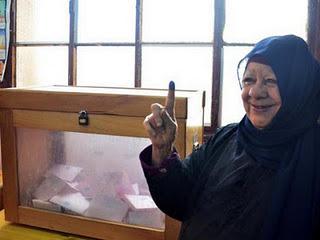 Egyptian woman voting. Photo credit Al Masry Al Youm.
The first day of the election has gone by smoothly.
Here are some impressionistic reactions from friends and acquaintances.
A young lady at the busstop who voted at Tagamoo (near El Rehab in New Cairo) said she waited in line for five hours. She got in line at 7 a.m., but the polls did not open until 11:30. She mentioned that men and women voted in different schools. She said by the end of the time period, people started to argue. She was in a school where only women were voting, but they started to argue. She said there was heavy security provided by the military, the police, as well as
lagaan shabaaya.
One of the administrative assistants to the law department at AUC said she voted in Nasr City. She also waited in line for hours. She said there was no bathroom. She said that the polls opened late, and that people started to argue because some young people cut in line towards the end.
One of my graduate students voted in downtown, near Tahrir. She said it was very safe, and there was a lot of security provided by the military police. She said voting went quickly and easily.
The parliamentary election continues today. 
~WMB