This post may include affiliate links, including Amazon Associate links. I may earn money if you click on one at no extra cost to you.
Check out our day hiking packing list. Find out the essentials to bring on your hike, plus optional hiking gear that may make your hike more comfortable.
If you're new to hiking, it can be difficult to know what to pack and what to leave at home. I'll never forget the time I saw an ill-advised tourist hiking in the Canadian Rockies - wearing gumboots!
You can't make this stuff up! Apparently, someone had told him it was going to rain, so he thought gumboots were the solution. Unsurprisingly, his feet were covered in blisters. I gave him some Compeed for the worst ones - ouch! He clearly hadn't read my day hiking packing list essentials.
I've also ran into hikers who begged for water on numerous occasions. In each case, they had attempted a long hike with not enough water.
That's when things start getting scary. If you get lost and end up spending the night in the mountains, you can die from hypothermia. It's not uncommon for temperatures to drop below freezing in the mountains overnight - even in summer! Don't worry, that's not going to happen to you. Once you know what to pack for a day hike, it's easy to stay safe and not overpack.
Who Designed This Day Hiking Packing List?
My name is Laurel and I've been hiking almost every weekend for over 20 years, plus at least one multi-day hike every year. I also offer hiking tours and advise clients on what to pack for their hikes.
My day hike essentials have evolved over time and continue to do so as new products and technology come out. When I first started hiking, fleeces were really thick and bulky. I'm so glad to see how hiking gear has evolved to become lighter without sacrificing warmth.
As I hike almost every weekend, sometimes doing multiple hikes on a weekend, I've learned what to pack and what to leave at home.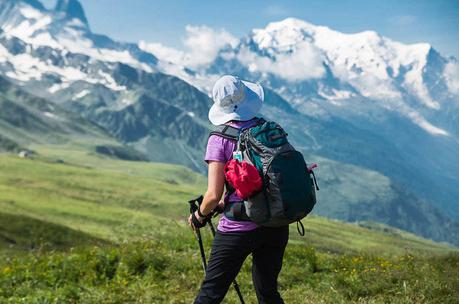 Hikers on one of the many forested paths that make up the Path of Gods Italy.
Day Hiking Packing List:
When hiking, it's essential to layer so that you can easily add or take off layers as you sweat or as the temperature changes.
The three essential layers are:
Base layer: for wicking sweat off your skin. I LOVE Merino wool as a base layer but quick-drying polyester will also work and is cheaper. Never wear cotton, you'll be too hot or too cold.

Mid-layer: this is for insulating and helps your body retain heat. I always bring a mid-layer even in summer, since temperatures can drop very quickly. I have a lightweight one for summer and a warmer fleece for winter.

Outer layer: this is a shell to protect you from wind and rain. I always bring an outlet layer, even on sunny days. Weather can change quickly, and it can often be cold and windy at the summit.
Related Reading: 18 Best Leggings for Hiking
Related Reading: The Best Hiking Footwear For Every Hiker
Related Reading: Best Hiking Backpacks: Our Top 13 For Every Budget
Day Hike Essentials: Hydration & Food
Safety Items for Your Day Hiking Packing List
Day Hike Essentials for Avoiding Blisters When Hiking
The two best ways to avoid blisters when hiking are:
1) have hiking boots/shoes that fit correctly. See the tips above under hiking boots for how to find the right size.
2) wearing breathable socks that wick moisture away helping to prevent blisters.
If you do feel that you're starting to get a blister, treat it as soon as possible by applying Compeed Anti-blister stick. Don't wait. And if it does develop into a blister then apply a Compeed blister cushion.
Navigation Essentials For Your Day Hike
Miscellaneous Items for Your Day Hiking Packing List
Related Reading: Gifts That Hikers Will Love
Optional Items for Your Day Hiking Packing List
Related Reading: The Best Trekking Poles.
After Day Hiking Items
Now that you know what should be in your day hiking packing list, it's time to get to the fun stuff - the actual hiking!