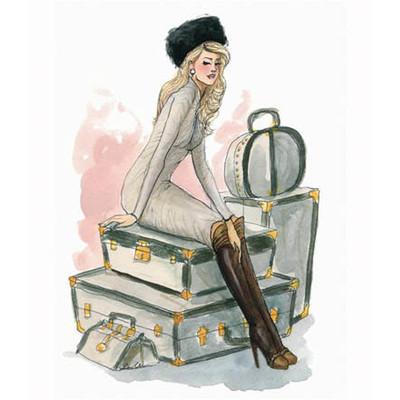 I don't understand Paris in the Summer. This is my second one and like last year, I'm cold. I'm wearing a thick sweater, jeans and my Franprix velour ballet slippers and its mid-July. We had one week of unbearable heat in June that I actually enjoyed because it felt like Summer and after that, it was over and now it feels like Autumn. No wonder everyone flees to the South. I guess thats why Paris in the Spring time is so famous because Summers here are bullshit.
My subletter is coming tomorrow and I realized that I had not cleaned or made space for someone to move in. Not having too much to manage and having an apartment thats uncharacteristically Paris with enough storage to stash my things while I'm away, all I'd need were some boxes. Boxes, boxes, where was I going to get some boxes? I went downstairs to G20 and asked if they had any boxes for me but they had thrown them out with the morning trash and would not have more until next week. I considered the Epicerie around the corner but wasn't sure if any friends would be coming with it. So I stopped by Monsieur Flâneur's restaurant to get some boxes. His place is clean and I knew he had the small box size that I was looking for. With better planning, I could have gotten them from somewhere else but time was not of the essence and shot him a text telling him I was coming by. 
When I arrived he had a neat little bundle waiting for me that he volunteered to walk over to my flat. I would not have been offered the same service anywhere else and was happy that I used my resources. On our walk back to my flat, it started to pour ice cold rain and luckily, we had our boxes that we used as umbrellas. Trekking through the rain with an ex love in Paris made me think of only one thing. That awful 90's song '
Kiss the Rain
' that I could not resist belted out. MF wanted to kill me because we were progressively getting more drenched as the rain was coming at us on a diagonal and I continued to sing Billie Meyers inches away from his ear. "Arrête de chanter cette putain chanson!" he screamed under the soaked cardboard. "What song?" I teasingly asked. "Kiss ze rain! Kiss ze rain, mon cul!" he said with a pumped fist.
He walked me up and built the boxes for me before going back to work. Just as he was leaving, I noticed something on his arm. I went to grab his arm before he snatched it back. "What is on your arm?" I asked him threatening with an approaching hand to grab it back. "You're going to laugh at me." he said while holding his forearm protectively to his chest. He slowly and a bit dramatically, revealed a tattoo that covered his entire forearm of a lady with skulls and cross bones. I looked at him with wide eyes. "You really are going through a mid-life crisis!" I accused him. 
He looked a little sad as if I didn't like it. And while no, I didn't love it and still don't, it is permanent, he did choose this design and so I congratulated him on his first tattoo and fibbed that I really did like it. His eyes lit up to my approval and thanked me.
Packing and cleaning took a few hours but by early evening, my apartment was clean, rid of the things and ready for my Summer sublet. I walked over to Phil's apartment, where I'd be staying for the week before going back to the States and maybe it was the rain or my empty apartment, seeing MF and his tattoo but I suddenly got melancholy. Everything was changing at warp speed and each week was starting to feel like a new era. I sat on Phil's couch with a blanket over me, listening to the rain and . I had to snap out of it and there were three things that was going to make me feel better. My no-fail elixir of Pizza, wine and Bill Murray.
I walked over to Amici Miei and got a margarita pizza to-go, had a bottle of Bourgogne at the flat and 'What About Bob?' streaming on my laptop. By nightfall, I was in better spirits, laughing out loud while Bill Murray was torturing Richard Dreyfuss in my favorite 80's comedy. My quiet Saturday night turned out to be less tragic than it started and am ready for take on the next week of surprises and adventures.
Amici Miei
44, rue Saint-Sabin
75011 Paris