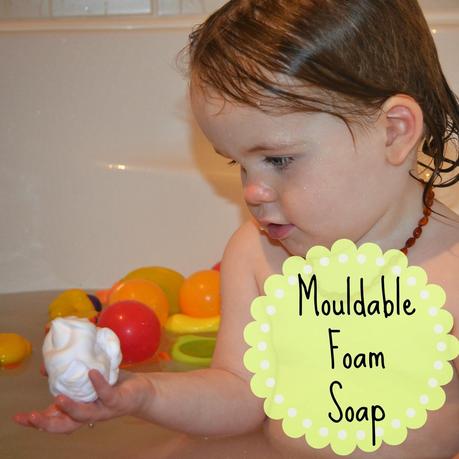 Today's activity was very similar to our day 20 shaving foam bath paint activity, however it was based much more around the texture and smell of the mouldable bath foam rather than the mark making we explored previously. A lovely local mommy told me she had found this Peppa Pig Mouldable Foam Soap in Poundland, and shared some photos of her little lady absolutely loving it.
The foam itself is a weird consistency - it's like very thick, gelatonous shaving foam. It is mouldable, so we were able to make balls and shapes out of it, and it holds up much better than shaving foam in the water. It is also scented, and smells just amazing! We initially enticed Isabelle in by letting her 'paint' the foam across the tiles, but she soon got into the swing of things and wash squashing it in her hands, dropping it into the bath and scooping it back out again. 
Like shaving foam, the foam expands when it is squirted out of the can, and because it is so stiff it makes some very impressive shapes as you squirt it out. Simon decided to do a little experiment, and squirted the foam into one of our bath scoops before quickly covering the end with his hand. The foam kept expanding, and starting spilling out the little holes in the bottom of scoop creating wiggly worms of foam. He and I both enjoyed that thoroughly, although Isabelle was more interested in just getting it into her hands again to play with.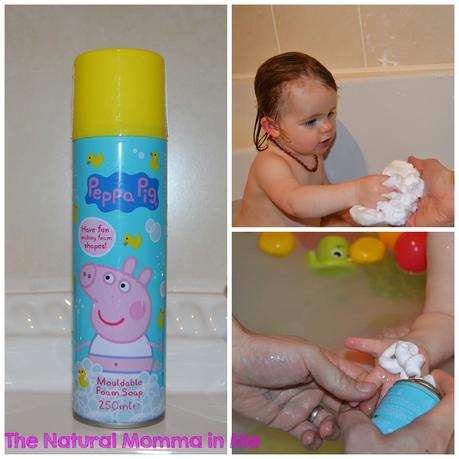 If you've been following any of our activities you will know that Isabelle does not like really messy, unusual textures on her hands. She did touch the shaving foam paint we played with, and did touch shaving foam itself, however she wasn't thrilled either time. I actually got this foam out last week, but she was very tired and it caused a total meltdown, so I was sure that she would hate it again.
I was so wrong! Initially, she did give a few whines and protests, however with Simon's gentle coaxing she soon had her hands in it and was really engaging with the foam. She even let Simon squirt the foam out of the can directly into her hands which was amazing, and something I never thought she would be comfortable with. I was so proud of her, as I know that it must have been difficult for her to push her worries about the texture of the foam aside, but she really did give her all to the activity and went above and beyond anything I could have hoped for.
In fact, she spent the whole bath yelling "Some more! Some more!" and was very disappointed when we had to put the can away to make sure we have enough for another day.
The smell and unusual texture of this mouldable foam soap gave us a great sensory activity in this evening's bath. Isabelle was an absolute superstar so I can see us stocking up on more cans of this in the future - for £1 it's too good to pass up!