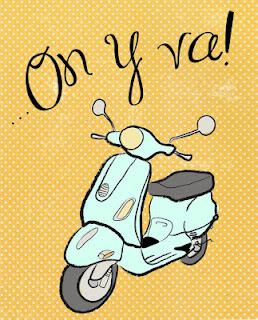 Illustration by
Charla Pettingill
One of my favorite moments during these 300 days was my second date with Séb when he took me on a Vespa ride through Paris. Zipping around town on his kitchy bike has certainly given me a different experience here. There's something about not being forced to breathe in the burnt smelling exhaust of the metro stations, being off the crowded teeny sidewalks, and weaving in and out of Renaults, buses, and Smart Cars that just is so liberating!
Vespas in Paris are what convertibles are in LA...total babe magnet status. When I first met S
é
b, on top of digging his style and his kind manner, when he showed up at my flat on a baby blue Vespa, I admit that I had a total girl schwing moment.
Seeing Paris on Vespa is something that I highly recommend. Ah, no access to a "S
é
b" to get this incredible experience? Pas de problème!
I'm pleased to announce that you don't need a boyfriend to see the City of Light on a Vespa when there is 2 Wheel Tours, an independently owned company that specializes in custom Vespa tours around Paris and its perimeters. Excited that this existed,
I had contacted them back in January to see if I could tag along on a tour to see what they were all about. 
During the ice cold front that was blasting through Paris, I met up with the company's founder, Xavier in the 7th where we started our mini tour. I put on my tourist goggles and off we went on this icy morning through Paris to check out some of the sights. While there are handles on the side of the Vespa for passengers to hold on to, I feel more secure holding on to the driver, because I still have a fear of flying off the back. I gripped tightly on to Xavier, which made me feel like I was scooter-cheating on Séb as I held tight to this other guy. You could imagine Séb's amusement when I confessed this to him.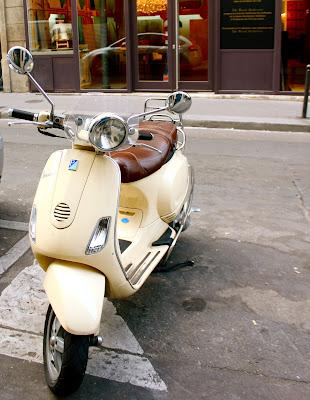 A 2 Wheel Tours Vespa
The tour was just darling. Xavier drives with caution (a lot slower than S
é
b!) and adequately answered all of my questions in English that I had prepared, to ensure that they would be able to accommodate English-speaking visitors. We started in the 7th, zipped around the rond point at Invalides, crossed Pont Alexandre III, up along the Seine to the Eiffel Tower, then over to the Champs-Elys
é
es to the Louvre where we stopped for something to warm us up. Xavier, being the super tour guide wanted to continue the tour up to Montmartre
and then over to Notre Dame but at this point I was frozen solid, like Picard solid where it hurt to even answer my phone that was in my pocket. Our one hour tour gave me a wonderful impression of the company, Xavier was friendly, drove safely and was nothing but eager to share his knowledge of this historic city, while keeping conversation in between landmarks light and engaging.
2 Wheel Tours specializes their tours to the client's request, whether it's an art history or fashion tour through Paris or a historic ride through Versailles, it's up to you! Now that spring is springing and out-of-towners from the States will be itching to visit as each week gets more picturesque, I'd say that this is a fantastic and adventurous way to see Paris as a moving postcard.
For more information on tours, schedules and prices, visit their site 2 Wheel Tours.