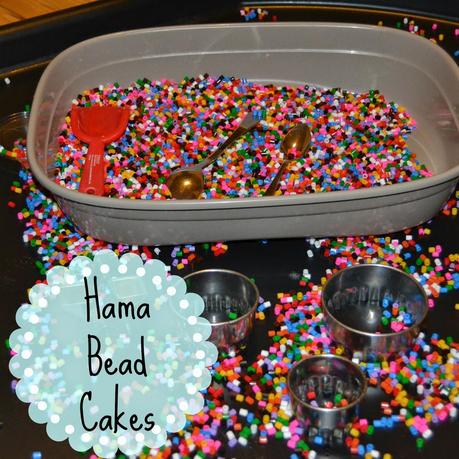 Ikea sell almost everything - including the material I used in today's play activity. I bought a tub of hama beads  from Ikea this time last year to use them in one of Isabelle's discovery bottles. Since then, the tub has been stored away, totally unused. I remembered them this week and thought they would be the perfect  material to use in one of our activities.
Hama beads are tiny and have the potential to spread to the 4 corners of a house, so I sensibly decided to set this up on our tough spot to try and contain the mess. I poured the hama beads into our smaller tray and threw two different sized spoons and two plastic scoops in as well. Next, I added our metal cookie cutters.
The idea of this activity was to fill the cookie cutters up with beads to make hama bead 'cakes', and then when we picked them up there would be a little avalanche of hama beads running in all directions.
I showed Isabelle how to do it, and she followed suit by filling the different shapes up using her hands or one of her tools. After a while, she moved on to just playing with the beads in the tray. She plunged her hands into them and swirled them about,
before picking up handfuls and letting them run through her fingers. She enjoyed the feel of the beads, which was almost soft because they are so tiny.
She also played with the cookie cutters on their own for a while, after she discovered that the 3 round cutters fitted into one another. She put them in, and back out, over and over again, and got more and more frustrated that the star shape just wouldn't follow suit. She can already identify and name a 'star' shape, so today we worked on learning the word 'circle'. Three of the cookie cutters, one of the scoops and the lid of a tub we had in with us were all circles, as were the tiny hama beads themselves, so it game us lots of opportunities to use the word and look at different sized circles, and circles made of various materials.
Isabelle was able to pick up the tiny beads one at a time, so this was an amazing work out for her fine motor skills and her pincer grip. Using the scoop to move the beads into the small cookie cutters was also excellent for her hand eye coordination, and I will admit that I struggled to get them into the shapes without spilling!
All in all, we played for around 20 minutes until it was time for dinner. The hama beads were lots of fun to play with by themselves, but I can also see them being used as a base for activities in the future, and maybe even for very careful threading onto spaghetti when Isabelle is much older. That is if they haven't disappeared off into every nook and cranny of the house...