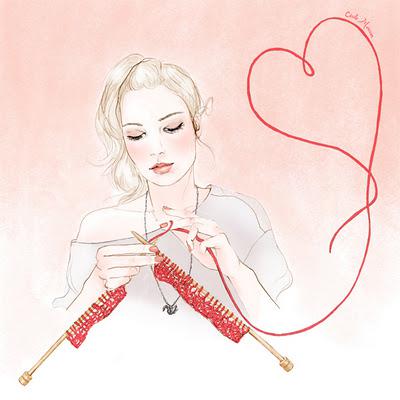 Illustrations by Cécile Mancion
Yesterday I spent a long day in the slushy, cold city. Freshly fallen snow when you have nowhere to go is lovely. Day old snow after it's melted to black slush and has been driven over by dozens of cars and trucks is the reason why winter really is my least favorite season. I wouldn't have trekked into Manhattan if I hadn't made an appointment last week for a facial at Mario Badescu, using the gift certificate given to me for Christmas by my cat, Charlotte (or rather, my mom who think she's pulling the wool over my eyes by drawing a paw print as Charlotte's "signature" on the card). 
Before getting my face exfoliated, extracted, massaged and being told by the Ukrainian esthetician that my skin was dry, broken out and not luminous, I spent the afternoon downtown to visit some of my old stomping grounds.
After chowing down a sunshine burger with sprouts and tahini bursting out of a whole wheat pita at Yaffa Cafe, I stopped by the St. Mark's Bookshop to kill some time before my appointment uptown. While pursuing the autobiography section, I felt a hand on my shoulder. Startled, I turned around quickly where my coffee spit out of the spout of the to-go cup and on to my white coat and found Ben staring back at me.
Oh God, no...not Ben. I can't stand this guy. Ben was my next door neighbor in Brooklyn whom I thought I was dating because for over two months we were going out every other night. We were going out to dinner, for drinks on Bedford Avenue, seeing bands, having movie night and well, having sex. Isn't that dating? (and I know, dating your neighbor is stupid but hey, I was 25.)
It wasn't until he told me one night that he loved having a fuck buddy as cool as I was that I realized that we weren't in fact dating. How disgusting. After escorting him out of my apartment, I stood up against the closed door and reflected on our past few months together. I was annoyed but mostly I was confused on what had been going on for the past few months and if I had been delusional. 
Ben was my last American "boyfriend". 
Only in the States have I found dating to be so complicated where there are all these rules, games and unclear levels. There's "hanging out", "talking", "hooking up", "seeing", "going out", "sort of dating" and "being casual" where each stage means something completely different. It's ridiculous.
In France and I assume the rest of the world, this method of courting (if you want to call it that) simply does not exist. Everywhere else, dating is pretty direct where there is no mystery as to what's going on between you and the person you have been rolling in the hay with for the past month.
My French guy friends who have lived in New York confirm that they got away with acting like total jerks because men seem to call the shots and can date multiple women at the same time where it's deemed as normal.
There's a reason why Sex and the City was a success because dating in New York is a nightmare.
I'd love to hear your opinions on this, especially from all my expat girls. Do you ladies find dating to be easier in Europe than in a major city in the U.S? I'd also like to hear from my French male readers who have lived in Manhattan, I invite you to share your experience. Am I on target with my observations or did I just have terrible luck?
Back to Ben, after getting the rug pulled from underneath me when he referred to me as his fuck buddy, I reacted really strangely and did something I had never done before...and I wasn't even drunk. 
To be continued....