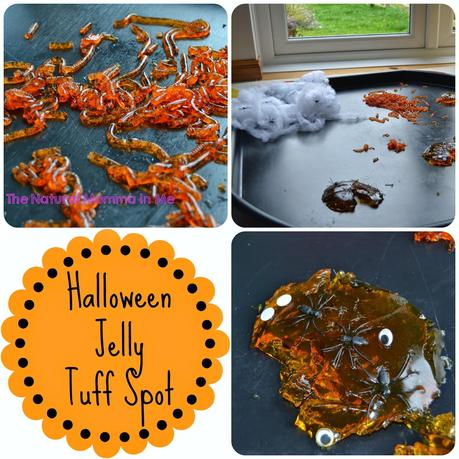 I'm off on half-term this week, which means we have more time to do some more messy play activities, and do "bigger" activities than we normally do during the week. The end of this week, of course, is Halloween so today I decided to put together a Halloween themed tuff spot using one thing we haven't played with yet.....jelly.
There were two parts to the tuff spot activity today - jelly digging, and jelly worms. I have seen the jelly worms all over Pinterest, and thought they would add a nice extra touch to this tuff spot. To make them I made a batch of lime jelly, however I only added a SPLASH of cold water to make it very concentrated. I added a dash of red food colouring - although I was quite heavy handed and it did go more red than I had hoped. The final ingredient was a spoonful of milk. Next, I popped a load of drinking straws into a glass upside down, and with the bendy bit pulled to its full extent, before simply pouring the jelly mixture over them into the glass and popping it into the fridge.
For the jelly digging, I made a batch of orange jelly in the normal way. Into the bottom of two bowls and two plastic cups I added some
plastic spiders and some wiggly eyes, after first lining the containers with cling film in an attempt to allow me to remove the jelly more easily and it worked amazingly well.
I set the tuff spot up while Isabelle was having her morning nap, putting the different jelly 'lumps' onto it, and emptying the worms out as well. In the corner, I put the rest of the plastic spiders and the spiders' web as well. After we had been out, walked the dogs and had lunch, I gave Isabelle two spoons and let her have at it. The one thing that struck me as we went into the playroom was the smell of the jelly, and I'm really pleased that the smell was so strong as Isabelle loves to sniff things, and the jelly was no exception.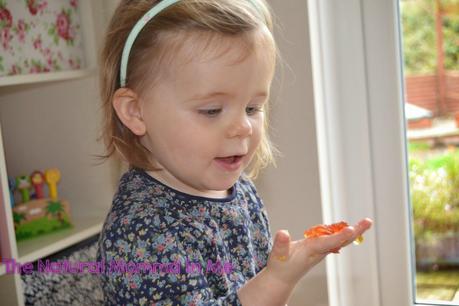 Yet again, she surprised me with how well she took to this. Before we started I had a sudden sense that she was going to hate it, but I was totally wrong. She used the spoons to start digging straight away, and what I loved about this activity was how much she wanted to share it with me. Every time she dug out a spider or an eye, or just lifted some jelly, it was held out to me  - "See, mummy!". After a few minutes, she stuck her hand into the jelly, and spent the rest of the time picking it up and squishing and squashing it about. I was so pleased with how easily she took to the texture of the jelly, and she really loved playing with it, and splatting it about.  In fact, throwing the jelly and worms about was her favorite thing to do, and she picked it up and dropped it over and over and over again. Surprisingly, she hardly ate any of it. She did lift it to her mouth and look at me, then she said "No" (which is what she does when she thinks something isn't allowed, but she is going to do it anyway!) but I said "Yes, you can taste that", and that seemed to take the fun out of it for her. She had a few mouthfuls and that was that.
One thing that I personally enjoyed about this activity was that Isabelle was using lots of language during it. When she saw the spiders she started to sing Incy Wincy (her current fave), and she said all the bits she knew before I sang it with her. Then, we had lots of "wibbly wobbly" from her to describe the jelly and we sang "Jelly on a plate". So along with the 'active' part of the activity, we had lots of communication happening at the same time.
We played for well over half an hour, until she was ready for her afternoon nap. I did leave the tuff spot  out for after her nap, but daddy came home during that time so she wasn't as interested in playing with it then.
I'm so pleased with how this activity went. It was messy, sticky, gloopy and wonderful - a true messy, sensory play activity.