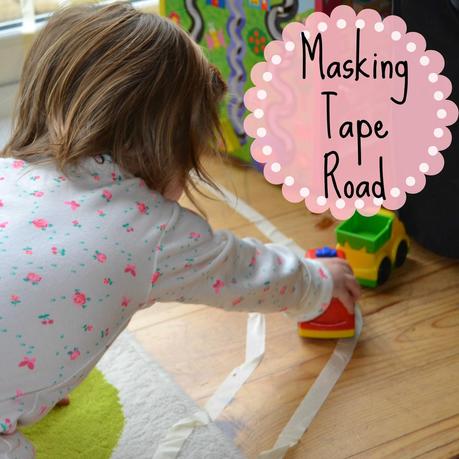 Shhh...don't tell anyone this, but I borrowed a role of masking tape from school last week. I thought it may come in handy at some point at home over the holiday, and today it did! While browsing through Adventures of Adam (which is my new favorite blog), I saw one of the activities Emma had done with Adam was a masking tape car road. It was logged in the back of my brain, so whenever I saw Isabelle 'driving' her cars up and down our storage boxes this morning I thought it would be the perfect little activity.
My road building skills weren't fantastic, but I laid out a track that ran across the rug, down onto the hard floor, up and over the patio doors and then finished in a car park on the other side of the rug. Approximately 4 seconds after building it, Isabelle tore up the car park with glee. I was so surprised, as she usually HATES any type of tape, but I think that the different, softer, feel of masking tape meant that it wasn't as unpleasant in her hands. I blocked off the end of the road instead, and Simon and I showed her how to use the road with her cars.
She actually seemed to prefer driving her cars along the tape itself, rather than between the two pieces, and was able to follow it along pretty closely. Simon tried
to build her a tunnel out of playdoh, which was a bit of an error, as she then got so distracted by her 'doh' that she was off playing with it.
A little later, after we had tidied that up, she did come back to the road and her cars. She loved driving her bigger cars across the window, and they did make a pretty impressive noise as she wheeled them over it.
As with some of her other activities - like yesterday's baking - the part she enjoyed most was actually the 'tidy up' phase. I showed her where to pull the tape up from the floor, and she thought that was just brilliant. her favorite way to pull it was by sitting across the room, trying to pull it off the window with a huge long piece in between. She pulled and tugged at the tape for ages, before managing to wrap herself up in it like a mommy. We then made some balls out of the tape and batted those round for a while before we were all done.
It really is amazing to see how something as simple as masking tape can keep Isabelle so entertained for such a long period of time. As a result of all the different activities we've been getting up to, I am completely rethinking some of the items which were on her Christmas list, and slowly replacing them with things we can use to do activities like this instead. These are the types of play she really loves, and the types of things she plays with for the longest. At the minute, most of her toys are sitting unloved while she explores the world through the different - and so very simple - activities I've been setting up for her.