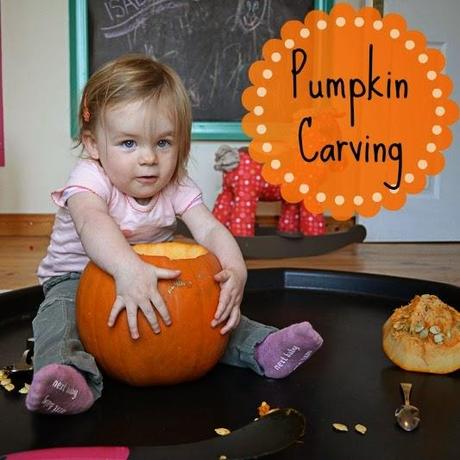 Day 18 of our 50 day challenge fell on a Tuesday - which is Simon's day at home with Isabelle. He told me last week he was going to carve a pumpkin with her, since it is of course coming up to Halloween. I have never been a big pumpkin carver, however over the last few years we have done a few, and I knew he was excited to get going with her today. The pair of them actually did this while I was at work, so this is me stealing all the credit for his hard work!
The tuff spot got another outing today, and it is perfect for this type of activity as it allows any mess to stay really well contained. Isabelle is still a little bit young to really 'get' pumpkin carving, but she looks like she had a great time, and Simon said she enjoyed herself. Actually, this is the second pumpkin she has carved after doing one with her Grandad yesterday who also said she loved it, so she is now a seasoned pro! Simon chopped the top off the pumpkin, and said that our little texture weirdo was a bit unsure at first. She wasn't fussed on the feel of the insides of the pumpkin - and I can understand why. It's a weird texture, isn't it?
She loves being able to scoop things and move them from one place to another as she is currently in her transporting schema, and so once she was armed with a spoon and some scoops, she soon delved in, scooping the insides of the pumpkin out and dumping it all onto her tuff spot.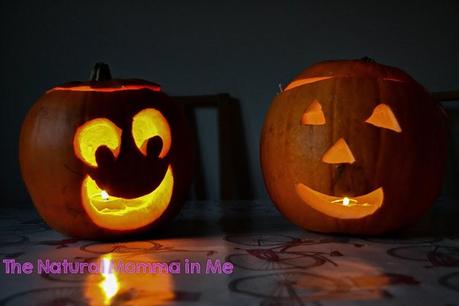 Usually, Isabelle comes round to the unusual textures, but Simon reliably informs me that she wasn't playing ball today, and even when she did put her hand into the pumpkin she quickly removed it. He said she didn't mind the seeds, but really wasn't happy with the squishy innards. A fun Halloween activity for daddy and daughter to do together today, and of course we now have her two beautiful pumpkins to pop outside the front door to join in with our street Halloween decorations.