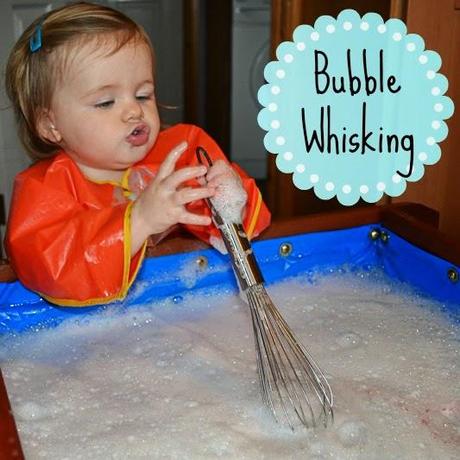 Isabelle loves to splash, and she loves playing with water. This morning as we were pottering about, she went to a kitchen chair and insisted "Chair, chair - water, mummy, tap." When she is with my parents they set up a chair at the sink, and she stands there and splashes about in the sink doing various bits and bobs, and she wanted to do the same at our sink. I dutifully did as I was told, and we spent about 5 minutes playing. The issue, however, is that she is about 3 inches too short to reach the tap very well, and so was getting frustrated.
I decided to bring her water tray into the kitchen, where I filled it with lukewarm water and got lots of scoops out. I had initially just planned to let her play with the water, and she was having a great time splashing around, when Simon mentioned she and Jacob had played for ages with bubbles at the sink at Granny and Grandad's. My mind then flicked through the many pins I have pinned lately, and I remembered seeing a bubble whisking task which seemed perfect!
We squirted some washing up liquid into the water and showed her how to whisk, and the bubbles magically started to appear. Isabelle enjoyed squirting the washing up liquid in the most, so she did that while Simon whisked. The whisking was a great
workout for her, and the squeezing of the bottle gave all the little muscles in her hand a workout, and taught her about some of the basic principles of applying necessary force. She liked how the bubbles got caught in to whisk, and blew them out, before diving back in for more whisking - by this time we had run out of washing up liquid so no more squeezing.
After just a few minutes, the tray was covered in a sea of foamy bubbles. I had already placed 3 different sized scoops, a sieve, a measuring bowl and some other tools in the water tray, so we had plenty to hunt out under our bubbles. We scooped them, blew them, some of us ate some, popped them, poked them, splatted them....we did it all. There was a lot of 'tongue out' action from Isabelle, which is a trait she has inherited from her father, and something she does when she is concentrating. This was obviously an activity which took all her concentration and attention.
I then pulled out day 4 bubble snake 'equipment' from the cupboard and we added to the bubbles with that, until we had really quite a lot. Isabelle enjoyed blowing the bubble snake more today than she has done any other day we played, which was nice to see. I wonder if we had added some food colouring to the water if it would color the bubbles? Maybe we can try that the next time...
She then got distracted by Roxy. Roxy loves bubbles. She goes mad when she sees them, so she is usually banished while we play. Today, however, she hovered round before taking herself off in a huff that she couldn't get any. Isabelle scooped some up for her and ran after her yelling "Roxy! Bubbles!", and took the bubbles in to Roxy in the living room.
That was the end of another activity! We were all a little more damp, a little bit soapy, but had a great time whisking up our bubbles and playing with them. This would be so much fun to do on a large scale - maybe a paddling pool activity for next year?