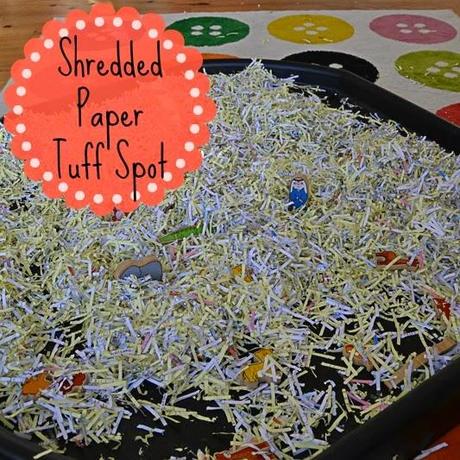 Today's activity was another very simple idea, but it was a lot of fun, and Isabelle really enjoyed it - as did Simon and I. Today, we had a 'Noah's Ark themed shredded paper tuff spot' activity. I've seen shredded paper be featured on a few other blogs, and knew I wanted to do it, but I wanted to make sure there was the extra dimension of having something hidden in the paper. It took me a while to think of the perfect items, and I settled on using the figures from our Noah's Ark.
To set up, I asked Simon to bring me home any old documents and pages he had at work, and didn't need. I then shredded them to get our small mountain of shredded paper. I actually only used half of what he gave me, but I am glad as it was plenty. If I had have done all the paper it would have filled the play room!
I threw a few of our Noah's Ark characters onto the tuff spot, and covered in a layer of paper, and repeated until all the paper was on. I popped a few characters on top too, just so Isabelle knew there was something in there, then let her lose.
She took to the immediately, and within seconds was tossing the paper around. She plonked herself down and enjoyed picking the paper up, crinkling it in her hands, watching it fall from her hands, throwing it in the air to make it 'snow', and generally get really stuck in. She enjoyed walking over it, and dragging her feet through it to bundle it up in mounds. We buried her feet, and showed her how to find the characters, and she sat and played happily for ages.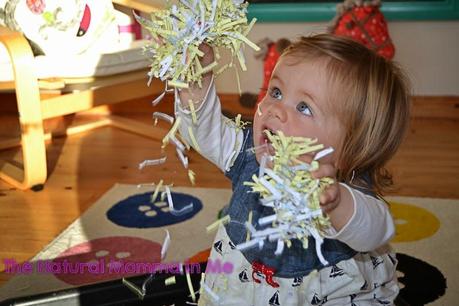 She then decided she loved the shredded paper so much that she wanted to roll around in it...so she threw herself down and wriggled and writhed, making a shredded paper 'snow angel'. Of course, there was paper absolutely everywhere - the tuff spot could not contain this girl today. It was over the edges, in her hair, down her vest, she trampled it through the rest of the house, in her shoes, in my shoes...truly it was everywhere. That was easily fixed with a quick hoovering though, and this certainly wasn't the hardest activity to clean up.
Her fine motor skills were worked on as she picked out individual strands of paper and rubbed it between her fingers, and gross motor skills came into the rolling around and throwing the paper. I thought it would be interesting to see how her well she understood the concept that the Noah's Ark characters were hidden in the paper, a 'what she can't see may still be there' approach. She really enjoyed looking at the animals and telling us their names, and if she could see them poking out she was happy to grab and dig for them, but she didn't make motions to actively search in other areas of the tuff spot to see if any characters were located there. I think that is a developmental stage which is in our future, so this will be a great activity to revisit when she gets there, and understands more the idea of searching in the paper.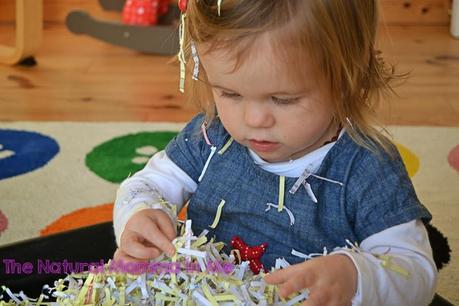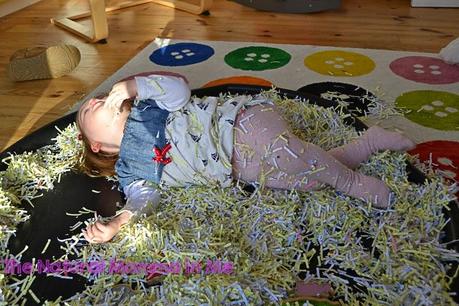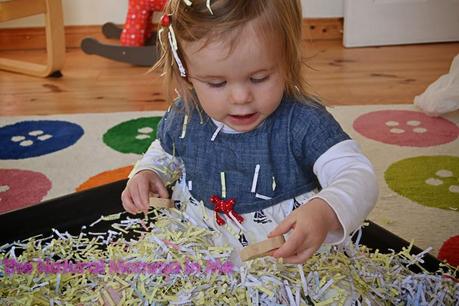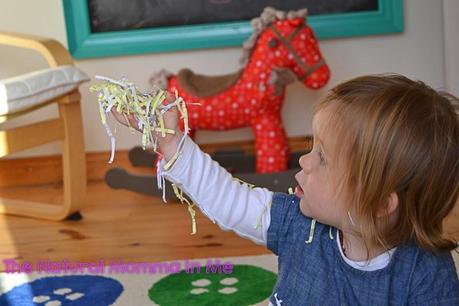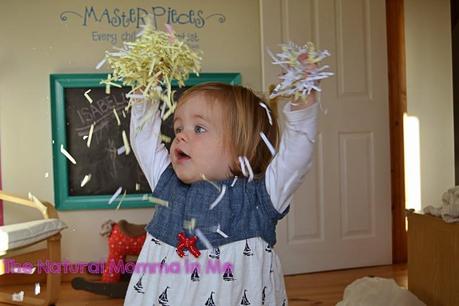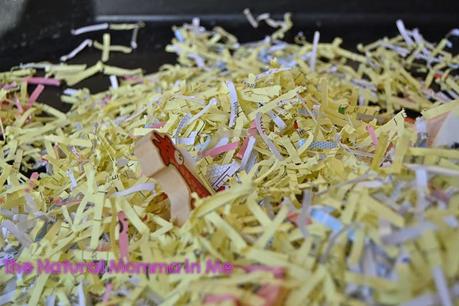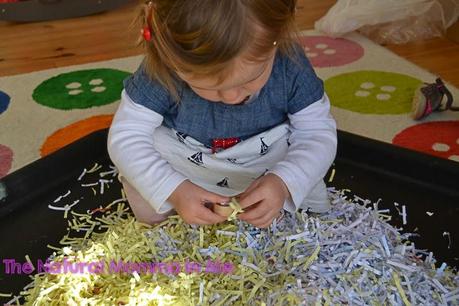 Another big success for the 50 day challenge! The paper has been bagged up again, as I have plans for another messy play tuff spot in the future in which it may become useful!