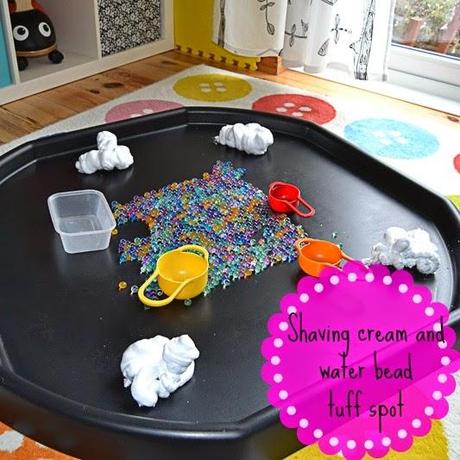 Our new tuff spot arrived! Now that it's here, I feel that we can definitely get stuck into some more messy play without the worry of my house being destroyed. Today was our first proper messy play - and I have to say, it was much less messy than I thought.
Ever since we first played with water beads, I've really wanted to combine them in play with shaving foam - don't ask why, it just seems like fun. So, I got a load of water beads ready by soaking them overnight, and threw them on to our new tuff spot along with our trusty scoops, and a tupperware box. Last time we played with water beads, Isabelle mainly scooped and transferred them so I imagined she would want to this time as well. Next, I squirted four big dollops of shaving cream around the tuff spot.
Isabelle is obsessed with water beads - absolutely obsessed. She calls them 'balls' and just loves playing with them. So, for the first 15 minutes, she sat in the tuff spot and ran her hands over them, picked them up, threw them, and then got on to squeezing and squashing them. That was her big thing today - squashing the water beads. She sat happily and squished them for ages. I got curious about the shaving foam and
started to drop a few on, and she then followed suit.
Of course, the texture freak in her didn't like touching the shaving foam at the start - I knew she wouldn't. I got her a paint brush and showed her that the shaving foam could 'paint' on the tuff spot. She really enjoyed that, shouting "Painting! Painting!" over and over as she spread the shaving foam about. The beads got stuck in it, and so we ended up getting it all nicely mixed together. Meanwhile, I thoroughly enjoyed picking up handfuls of shaving foam and water beads and squelching it - it felt amazing!

Isabelle played for roughly 30 minutes with the whole activity - she enjoyed scooping up the foam and loved how the beads got stuck in the scoop and she had to shake really hard to get them to fly out. She got her feet out and kicked those about in both the beads and the shaving foam, and generally had a great poke around. We went back to it after dinner, and she spent about 15 minutes lifting the (now very sticky) beads up and putting them into a colander, scooping them up in her cup and pouring them on the upturned colander.
What I did note was that she loved playing with the beads, and she loved painting with the shaving foam, but she wasn't that interested in combining the two mediums. She did, and we ended up with a true messy play experience.....but that was more a product of her other play. So, while I think they would go well together, she obviously didn't!
It was a breeze to clear up too - I collected all the beads in a collander and washed them, and simply rinsed everything else off. We then extended the play by tipping the clean beads into Isabelle's bath, and she sat as quiet as a mouse (very unusual!) and played with them, while Simon and I made up our own games!
Overall, an absolute success! I'm thrilled with the tuff spot - it contained all the mess and was so easy to clean! I think shaving foam painting as it's own activity isn't far off, and I have a few other tuff spot ideas up my sleeve too!