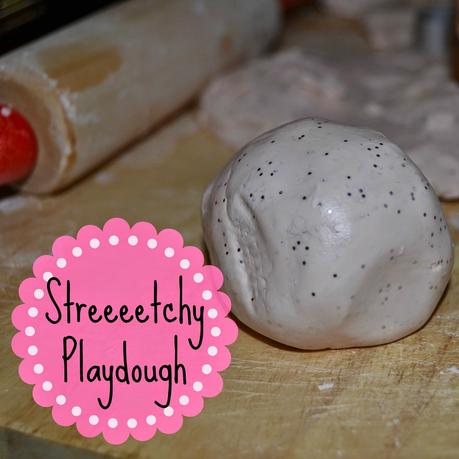 This activity started out as a total disaster, and turned into one of the biggest successes of our 50 day
challenge to date!
I saw a recipe for silky, stretchy play dough on Pinterest, and decided that it would be fun to make. On Sunday, I set about making a few bits for the coming week, and this was one of them. It's so simple to get together, all you need is:
1cup cornflour
1 cup hair conditioner
Food colouring
Glitter
The colouring and glitter are optional, but I wanted to add a little more to our play dough, so decided to throw it in. You will know when the consistency is right - it stretches amazingly in your hands. If it gets too crumbly, add more conditioner; too wet, add more cornflour. The only issue I had when making it, and when playing actually, is that it is unbelievably sticky. On the upside, the 60p conditioner I used gave the dough the most AMAZING scent.
The dough itself is a strange beast. It's super stretchy and squashy, but unlike normal play dough it isn't very mouldable. It's kind of gloopy, so when you make a 3d shape and set it somewhere, it starts to droop immediately. Even cutting out shapes in 2d form with the shape cutters wasn't an easy task as it was just so sticky. We had most fun simply using our hands, and it has the most wonderfully smooth feel to it. We also found it started to dry out after just 40 minutes of play, becoming crumbly and snapping very easily, losing its stretch, so it's not something I have kept to play with again as I know it wouldn't have the same elasticity in the future.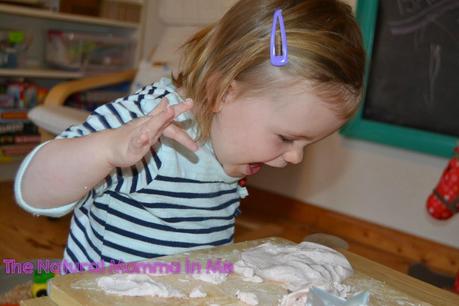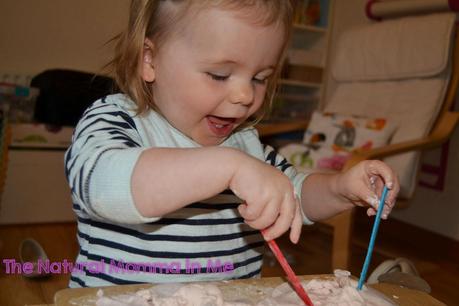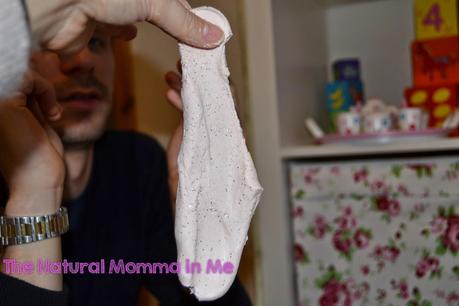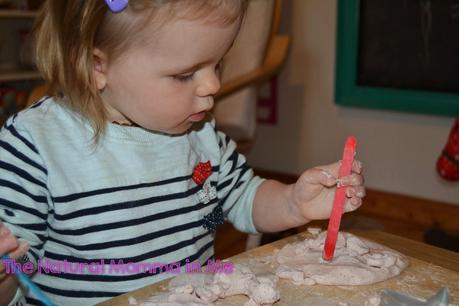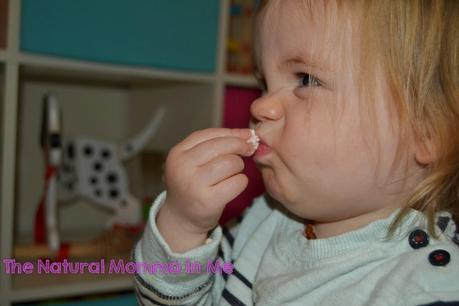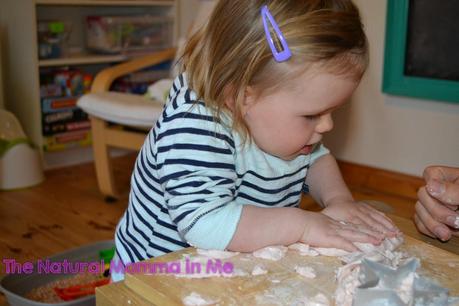 This weird texture is actually where the initial disaster started. Isabelle woke from her nap, saw I was making this, and she screamed the house down. Isabelle is a real texture freak - she gets that from me (cordrouy...bleugh!). So when she sees something she thinks she won't like the feel of, she simply squeals until the offending item is taken away. We showed it to her, I poked at it, put it in a bag so she could poke it without touching - but nothing worked. She howled every time she even caught sight of it, so I was sure that it would be a wash out.
However, when I got home today, I decided to just get it out and start playing with it myself, and knew her curiosity would bring her to it eventually. My aim for the session was simply to get her to touch it - but she totally blew me away by absolutely LOVING the activity! I made a ball of it for her, and she was won over. She was soon squealing in delight, and getting totally stuck in.
We have just bought a little set from Ikea which has a rolling pin and some shape cutters, after seeing a friend using them, so we got those out and she loved to 'roly poly' with the rolling pin, but soon downed all tools and simply squished and squashed the playdough in her hands. We stretched it, poked it, made balls, threw it down, squashed our hands into it, and stuck some lollipop sticks in to it - which elicited more squeals of joy.
The 3 of us played together with our stretchy play dough for more than half an hour, before it was time for bed. I am so proud of my kiddo today - getting stuck in to this was a big thing for her, and she did amazingly well. It was a true sensory experience for her, as it is 100% the feel of the play dough which initially put her off (or her perception of the feel of it) so to get her playing so happily with it was just wonderful - she loved it and we will playing with it again in the very near future.