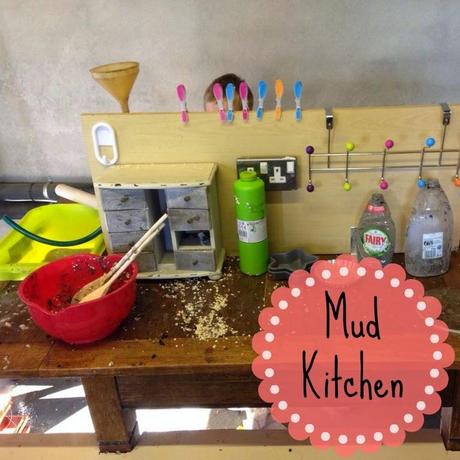 Day 11 of our 50 day challenge saw Isabelle, and her cousins, out playing at their mud kitchen. I will
be very upfront on this one and say that, while the idea for the mud kitchen was mine, it was my amazing dad who built it all. Every single part came from him, after I sent him one picture from Pinterest. He did a wonderful job, and all three kids adore playing out at it. Today is definitely a picture overload, but there is just so much to see!
The main part of the kitchen is made from an old wooden table. My dad knew that he wanted to have the following in the kitchen:
- a 'washing up' sink
- a 'tap'
- two mixing bowls
- a 'hob'
- a drawer
- hooks for hanging utensils
- a plug socket
The first thing he did was to create some 'wall space' by adding a wooden panel dead center down the middle of the table. He bought one
washing up basin and two round bowls, and drew around them on the table before cutting the shapes out of the wood. The bowls fitted in perfectly, and it means that there is less chance of them being knocked over. For the tap, he attached an old funnel to the central wall, and added a piece of hose pipe which loops down into the washing up basin - hey presto! A tap and sink!
Next, he used two of the circles he cut out to make the hobs, by trimming them down and attaching them to the table. He added knobs beside each one which turn freely. A hanging set of hooks added to the top, and some sticky plastic hooks along one side give plenty of space to hang pots and pans, utensils and anything else they may need. A plug socket was screwed next to the set of drawers for a more 'realistic looking' kitchen - as he put it!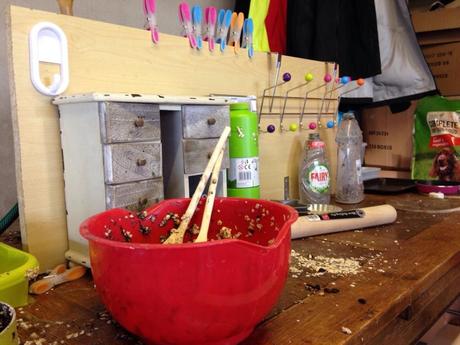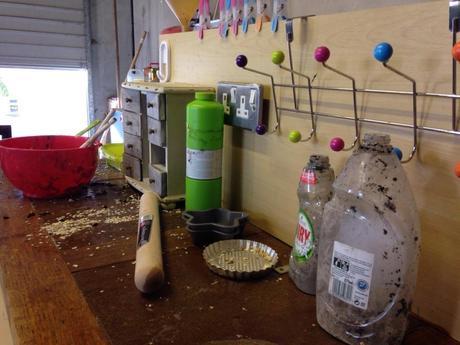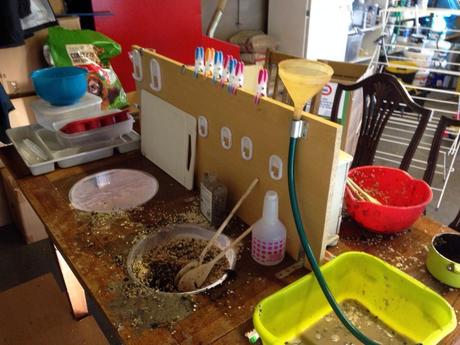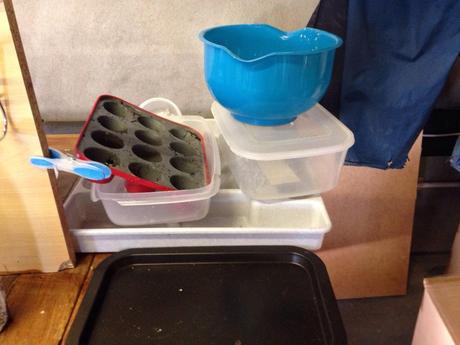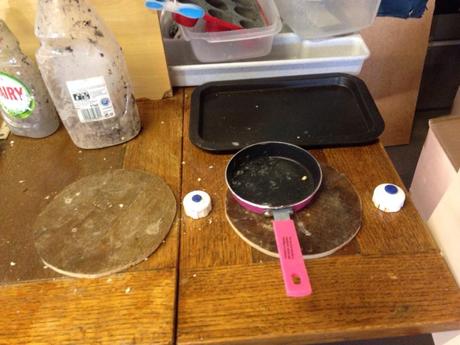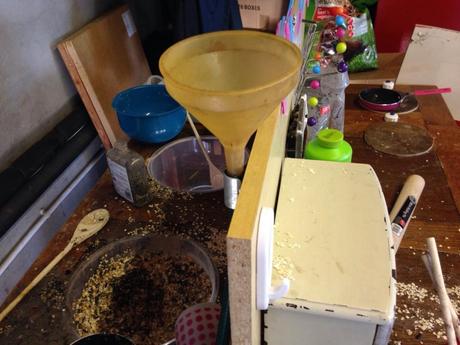 A trip to the pound shop and a rummage round the (real) kitchen ensured he had everything he thought he needed:
- wooden spoons and spatulas
- plastic tupperware - lots of it
- silicon baking moulds
- mini pots and pans
- a large mixing bowl
- bottles of various descriptions
- a chopping board
- pegs
- a baking sheet
- a rolling pin
- porridge oats
- bird seed
- little 'bits' for the drawers e.g. rawl plugs
Everything got added in, and then the kitchen was almost open for business. One isue we discovered was the differing heights of the little people. Dad built a platform for Jacob which was perfect, however too low for the smaller too. So on the other side, he added a makeshift platform of 3 chaits topped with MDF. This has the added bonus of 'containing' Isabelle and Isaac by using the chair backs, making it a little safer for them.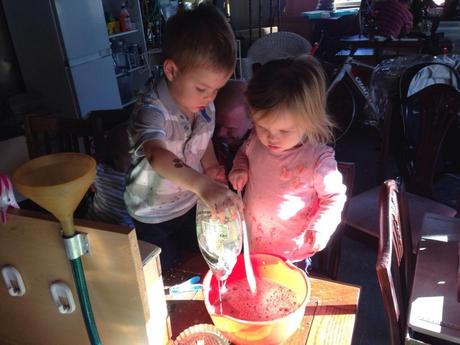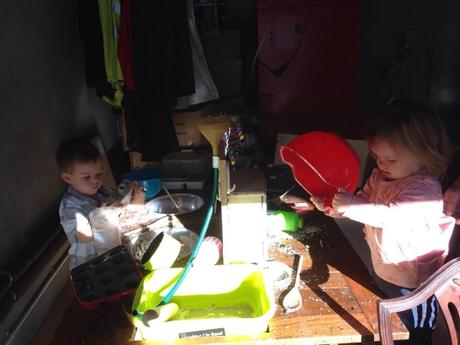 Once that was done, the kitchen was ready. All three kids love playing with it - they get to make a mess, mix, pour, scoop, slosh, bang...you name it, they do it there! Jacob's favorite thing is to make 'worm food' by adding mud from the garden to porridge oats and bird seed, and copious amounts of water. Isabelle likes to stir mud and porridge oats, pour water out of the bottles, and empty her big mixing bowl into the sink. Isaac just likes to bash about with the utensils! They all get suitably filthy (Isabelle had to be changed today after playing) and general get their hands mucky and have a great time.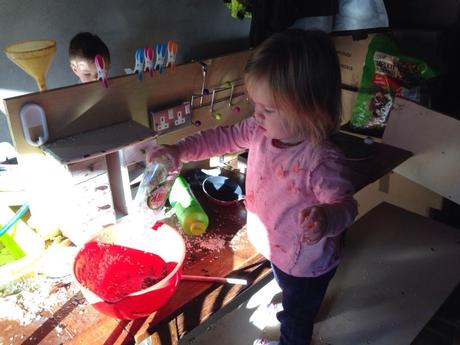 After a deliberation, the mid kitchen was settled into the garage. This is to make sure the kids can enjoy it throughout the winter, even when it's raining. (Hence the poor lighting for the pictures!)
The mud kitchen far exceeds anything I thought that they could ever have - my dad did the most amazing job with it, and he loves that the kids love playing there so much. I can see them sloshing about out there for many years to come! I'm so grateful to him for making them something so cool, and the effort and thought he put into it all shows just how much he loves his three grandkids.