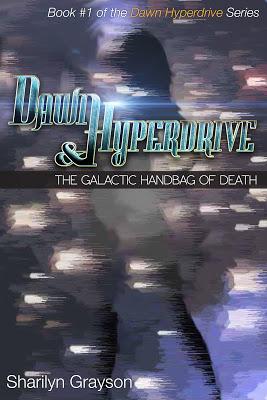 Dawn Hyperdrive & the Galactic Handbag of Death is the first in a new children's series of four space adventures. In Dawn Hyperdrive suburbia meets its match in the galactic wasteland of outer-space. Kevin Dearman, the eldest of three children, lives in a ritzy suburb, carved out of the sprawling countryside. In the heat of summer vacation, Kevin's favorite past-time is sitting in his room, playing the game Dawn Hyperdrive online by siphoning the internet service of his neighbor, Mrs. Spears, who also doubles as babysitter for the Dearman family.
But Kevin's gaming console breaks, boring him outside where a failed attempt at a foolish skateboard trick finds him head-over-heels in Mrs. Spears' peonies. Recovering from his injuries, Kevin holes himself in his room, fuming about how everything his family has is falling apart from his
father's injured back to--you guessed it--his gaming console that allows him to play Dawn Hyperdrive for hours of mind-numbing enjoyment. 
What Kevin doesn't realize is that an intergalactic space agent named Dawn Hyperdrive has been monitoring his  gaming activity through the portal Mrs. Spear's internet service. 
Realizing that Kevin's knack for navigating the complicated matrices of the Dawn Hyperdrive game is the exact, strategic mind she needs to crack an intergalactic piracy ring, Dawn Hyperdrive switches the role of babysitter with Mrs. Spears to intercept Kevin and his sisters in order to take into custody Mrs. Scales, the intergalactic space pirate who Dawn Hyperdrive believes is the hub of the ring. What was meant to be a boring evening becomes a night of adventure that literally changes the direction of Kevin and his sisters' lives. For good. We hope.

Two issues struck me about this book. The first was the irony of suburban life. The neighborhood where Kevin lives is almost an intrusion in the middle of the hilly countryside. The only greenery we see is Mrs. Spears' peonies: everything else seems to be shriveling, dead, or dying. (Where are the trees?) Aside from a few children playing with water guns outside, one gets the feeling that life in this neighborhood has been forced inside. To contrast the variegated countryside, Kevin is privately unnerved by the equally confining uniformity of the cookie-cutter, neighborhood houses. In short, Kevin feels that he doesn't belong, that he doesn't fit "right" shape.

The second issue that struck me was the relational dynamics of families who struggle in the middle of middle-class affluence. Kevin's father by necessity is a long-haul truck driver and is gone throughout the week. Kevin's mother is beginning 

a new job as a night clerk at a local grocery store to make ends meet. In addition, they can hardly afford a babysitter.

 Troubled by his parents' lack and feeling isolated in this otherwise beautifully laid-out community, Kevin's resentment causes him to shrink inward and hate his family.

In my opinion, Dawn Hyperdrive arrives at the right time on both these accounts. Not only do Kevin and his sisters get a change of scenery that makes home (and each other) an enviable place to be, but they also learn that money is no final, limiting factor when opportunities to do great and permanent good exist. What is primarily needed is willingness. This space adventure is exactly what Kevin needed to put his family back into perspective. 

I project that not only will middle-schoolers like this book, but their parents who buy them the book will want them to like this book.

Dawn Hyperdrive is available on KINDLE at 

https://www.smashwords.com/books/view/288514


 And on NOOK and EVERYWHERE ELSE at

http://www.amazon.com/-/e/B00BJRI6S6




Oh, and it will be available in PAPERBACK in two weeks!

BUY!