David Villa has returned to Catalonia to undergo surgery on his left tibia after breaking his leg against Al-Sadd the other day in the semi final of the Fifa World Cup. Barcelona FC has just won the final against Santos after a thrilling 4-0 victory where Lionel Messi, Xavi and Cesc Fabregas scored the goals to ensure that Barca remain the best team in the world.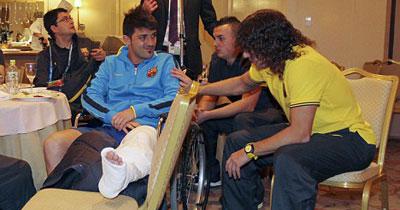 Barcelona striker David Villa will undergo surgery to repair his broken shinbone on Monday, the club have confirmed.
The 30-year-old returned to Catalonia on Friday after suffering a fracture to his left tibia in his team's FIFA Club World Cup semi-final against Al-Sadd in Japan.

The injury is expected to sideline Spain's all-time record scorer for between four and five months, meaning he is likely to miss the majority of Barca's Primera Division and Champions League campaigns but could be fit for Euro 2012.
A statement on the club's official website read: 'David Villa will undergo surgery this Monday afternoon to correct the fractured tibia in his left leg.
'The surgical team will be led by Dr Ramon Cugat and Dr Ricard Pruna.'

The two doctors are due to hold a post-surgery press conference at the Nou Camp at 1900 local time on Monday.
Barcelona have confirmed they have been given the all-clear by FIFA for their players to wear t-shirts supporting Villa before Sunday's Club World Cup final against Santos. Read the original here.
Once Barcelona get back to Catalonia, they will face L'Hospitalet in the second leg of their Copa del Rey match. It should be pretty easy for Barcelona but, as always, in cup games, the strangest things can happen!