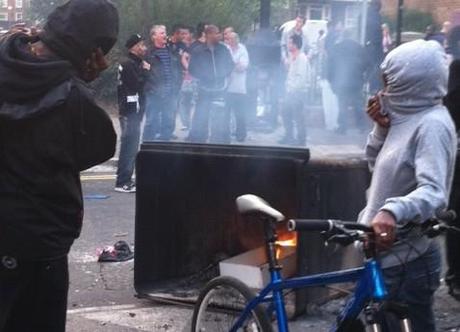 Hackney, London, August 9, 2011. Photo credit: Alexander Tsangarides
Historian David Starkey has sparked a storm of controversy by claiming, in a discussion of last week's riots in England, that "the whites have become black." His comments, made on the BBC's Newsnight programme, drew nearly 700 complaints from viewers and provoked widespread media condemnation – as well as some support.
Starkey linked to the riots to "a particular sort of violent, destructive, nihilistic gangster culture," and read out a text message sent by one of the rioters to illustrate what he called "this Jamaican patois that has intruded in England." He opened his remarks by referring to Enoch Powell's infamous 'Rivers of Blood' speech and said that while Powell had been "absolutely right" to predict a violent future, he had been wrong to predict inter-communal violence. "What's happened is that a substantial section of the chavs… have become black. The whites have become black," he said.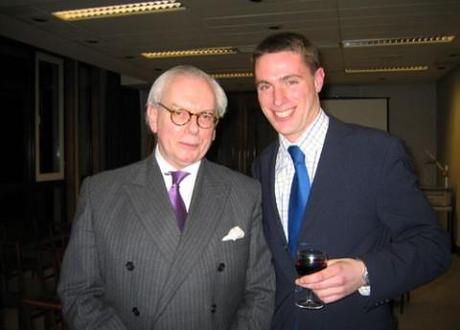 David Starkey, left. Photo credit: UCL Conservative Society
His claims were immediately challenged by other guests on the show, and within minutes the Twittersphere was ablaze with criticism. The BBC business editor Robert Peston tweeted: "David Starkey's nasty ignorance is best ignored, not worthy of comment or debate – though I fear there will be a media feeding frenzy." Peston was right.
Media feeding frenzy. "Well done Starkey, you splendid old chap, for fearlessly voicing your obtuse and racist views on the riots, and exhuming old Enoch to be your witness and prophet," wrote Yasmin Alibhai-Brown in The Independent. She went on to reject Starkey's defence that he had been referring only to nihilistic gang culture, not race, "as if racism is only ever that extreme revulsion some feel about dark pigment." Alibhai-Brown argued that there was a valid discussion to be had about crimes specific to certain cultural groups, but "Starkey didn't do that. Instead he blamed black people for white anti-social behaviour. So… violent football fans would be purring pussycats if that dratted MV Windrush hadn't docked." Labour leader Ed Miliband added his voice to those condemning Starkey's comments, calling them "racist comments, frankly, and there is no place for them in our society…There should be condemnation from every politician, from every political party of those sorts of comments." Things must have been bad because even Piers Morgan joined in, tweeting "RIP David Starkey's TV career. And good riddance. Racist idiot."
Support for Starkey. However, it wasn't all one-way traffic. There were voices of support for Starkey from some quarters, including Toby Young in The Telegraph. Denying that Starkey's comments were racist, Young argued, "He was quite specifically condemning a sub-culture associated with a small minority of people of African-Caribbean heritage. (Admittedly, he could have made this clearer.)" Young went on to claim that Starkey was "merely trotting out the conventional wisdom of the hour, namely, that gang culture is to blame for the riots. The Prime Minister made the same point in the House of Commons on Thursday." Tony Sewell in The Daily Mail broadly agreed with Young's analysis, saying that Starkey was only "guilty of blundering, both through his unfortunate choice of expression and through the falsity of some of his opinions." Sewell agreed, however, with Starkey's argument that the riots were linked to "a raw acquivisitveness that is fuelled by so much in this black-led youth culture, from the imagery in rap videos to the lyrics of hip-hop music." Sewell claimed that "The willingness of white and Asian youths to embrace black music and culture shows that racism is not nearly as ingrained as some of the professional grievance-mongers claim… But, at present, the culture is heading down the wrong street, a demeaning and negative one that can only lead to more social problems. In his own awkward way, that is precisely what David Starkey was trying to say."
Ludicrous and comical. One commentator with a unique perspective on Starkey's comments was Dreda Say Mitchell, who appeared alongside him on the Newsnight panel. Writing in The Guardian, Mitchell argued that the "overwhelmingly negative" response to Starkey's comments proved how out of touch he was. Mitchell said Starkey had displayed "crass stupidity" and was encouraged by the fact that 99% of the messages she had received "found him either ludicrous or comical." Comparing Starkey to a character from a 1970s sitcom, Mitchell wrote "Some wondered why I hadn't become annoyed, but it's difficult to get annoyed by this kind of tired, crude stereotyping you've been hearing since you were a kid."