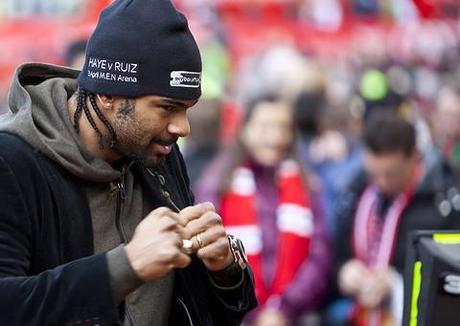 Hayemaker. Photo credit: AtilaTheHun http://www.flickr.com/photos/austinosuide/4492402796/
"I can confirm that Mr. Haye is not renewing his professional boxer's licence", Robert Smith, general secretary of the British Boxing Board of Control (BBBC), told Reuters. This would mean that the British fighter is sticking to his plan to retire before he turns 31, following a one-sided defeat to Wladimir Klitschko in July, when he lost his WBA world title. But is he bowing out at the right time, or does he still have more to offer in the ring?
The right decision. David Anderson, writing for the Mirror, felt the time is right for the declining star. "He was cruelly exposed by Wladimir Klischko … Better to go now with what remains of his dignity intact rather than carry on and sully his legacy." Anderson argued that Haye should stick to his promise to retire and leave with his head held high, and pockets full of money.
"He had nothing left to prove", said ESPN columnist Steve Bunce.
The wrong decision. Barry McGuigan, former world featherweight champion, told BBC Sport that Haye should keep fighting: "If it is the end then it's a shame because he had so much more to give … If it's the end then it's a career unfulfilled." McGuigan didn't buy it that a fighter of Haye's standing would want to end on his last defeat.
Never quite realised his potential. Sean Ingle, writing for the Guardian, argued that, despite becoming only the second cruiserweight champion to win a heavyweight title, Haye never fully delivered on his huge potential. He was saddened that Haye would be remembered as much for his crude trash-talking (he once promised that a fight would be "as one-sided as gang rape") as his fighting ability, when "his legacy could have been so much more."
One last fight? Despite the announcement that Haye will not be renewing his licence, and therefore will be retiring, there is still talk of a fight in February. Sky Sports reported that the Klitschkos' promoter, Bernd Boente, claims that a fight between Haye and Vitali Klitschko (Wladimir's brother) is still a possibility. "David Haye's manager Adam Booth always told me that he will officially retire on Thursday … but that he would definitely come back if there is a fight against Vitali."
More rumor mill »