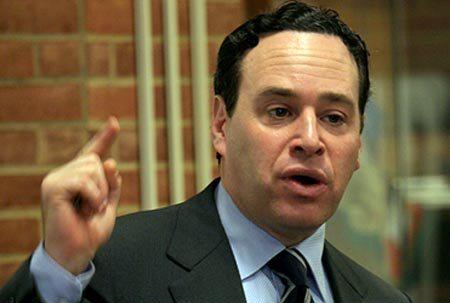 David Frum
Once again the right-wing media/entertainment complex has reported rumor as truth. This time, according to David Frum in his new National Post column, the mistake is overshadowing real world concerns about Chuck Hagel's nomination to Secretary of Defense:
On February 7, a conservative news site, Breitbart.com, posted this breathless news:

"On Thursday, Senate sources told Breitbart News exclusively that they have been informed that one of the reasons that President Barack Obama's nominee for Secretary of Defense, Chuck Hagel, has not turned over requested documents on his sources of foreign funding is that one of the names listed is a group purportedly called 'Friends of Hamas.'"

If true, that would be staggering information. But, of course, the story rapidly proved not to be true. There is no such group as "Friends of Hamas" operating in the United States. (Actual "friends" of Hamas, which is a terrorist group, usually make some effort to go incognito.)

The story reported by Breitbart.com had originated as a joke by Dan Friedman, a reporter for the New York Daily News.

"On Feb. 6, I called a Republican aide on Capitol Hill with a question: 'Did Hagel's Senate critics know of controversial groups that he had addressed?'" Friedman explained. "Hagel was in hot water for alleged hostility to Israel. So, I asked my source, had Hagel given a speech to, say, the 'Junior League of Hezbollah, in France'? And: What about 'Friends of Hamas'? The names were so over-the-top, so linked to terrorism in the Middle East, that it was clear I was talking hypothetically and hyperbolically."
Now if Breitbart News was the only right wing outlet to report this, no big deal. They report dubious stories all the time, and only appeal to a niche segment of gullible news consumers. However, this fabricated story did not quietly die in the backwaters of right wing media:
Unfortunately, it was not only a single website that pounced. The story quickly traveled up the Internet food chain. It was repeated at NationalReview.com, and from there made the leap to talk radio and Fox News — repeated, to be sure, usually with caveat words such as "allegedly," but repeated all the same.
To Frum, this sort of thing is killing conservatism. How can conservatives be taken seriously when their representatives in the media, not to mention their political leaders, fall for this sort of thing?
I'd also add that David Frum does not support Chuck Hagel as Secretary of  Defense. He begins his column laying out legitimate reasons why, in his opinion, Hagel is not qualified for the job. However, this story is not about Hagel. Its about the sloppy, stupid lies coming from right wing media. Because of a sloppy, stupid lie, real concerns about Hagel's qualifications are now overshadowed. The right wing media's stupidity is now the dominant story, as opposed to whether or not Hagel is the best man for the job.
In addition to regular columns at The National Post and CNN, David Frum also writes an outstanding blog at The Daily Beast.