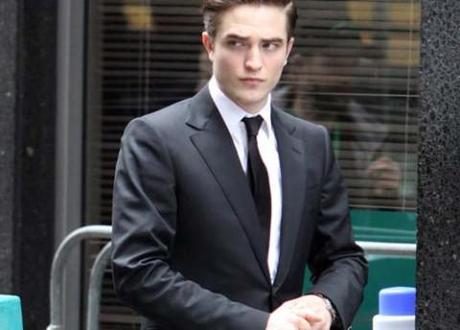 Robert Pattinson in Cosmopolis
The background
Cosmopolis is David Cronenberg's adaptation of Don DeLillo's novel (published in 2003) about the state of capitalism. It stars Robert Pattinson as Eric Packer, a billionaire who drives across Manhattan during a president's visit and a funeral parade, meeting various people along the way, including Juliette Binoche and Sarah Gadon as he looks for a place to get a haircut. He's also been threatened with death by a disgruntled employee; and he has sex. A lot. And has lunch with his wife. Critics are divided in their opinions: if you like that sort of think, you'll like it, seems to be the general consensus.
A sleek, purring vehicle
The book, said Tim Robey in The Daily Telegraph, is "as verbose" as you can get, but Cronenberg "could hardly have adapted" it "more assiduously." It's a "sleek, purring vehicle", and Pattinson's "sullen charisma and android beauty" are perfect. He's "like a robot rebelling gradually against his programming." But, alas, the film lacks "surprise," though it has a "mesmerising" soundtrack by Howard Shore.
Pattinson isn't great
Anthony Quinn in The Independent said the last time he remembered a fictional character "taking a whole day to visit his barber" is in Jane Austen, when Frank Churchill goes all the way to London. Packer, a Master of the Universe, shows "no interest in his wealth." But Pattinson "struggles to involve" us in his character, though he is "[s]aturnine and chiselled." The film also seems to last twice as long as it actually is.
Pattinson is great, but the film isn't
Kate Muir in The Times was a little more impressed. She said the film was "so cool, it's ice cold." The film allows Pattinson to "escape his teen vampire shackles." Cronenberg's "use of the limo interior as a place of simultaneous claustrophobia and safety is brilliant." But the film "stagnates."
DeLillo is gnomic; Cronenberg's lost it
Nigel Andrews in The Financial Times said he could barely read DeLillo for his "gnomic pomposities." But whilst DeLillo can write, Cronenberg "can't make films." When there's too much talking, the films don't stand up. He just wanted to say: "Kill me. Please. Anything. Just put an end this cerebro-sensory inanition."
It's worth a look
Cosmopolis sees Cronenberg using less mainstream material than his last few films, said Den of Geek. The world outside the limo is like "a waking dream." The cast is "uniformly excellent." But it's not a film "without flaws." The dialogue, basically word-for-word from the book, sounds "stilted." But if you're "interested in seeing a top-of-the-line director working with great actors and provcative material in a form that English language cinema seems to have all but turned its back on, then Cronenberg's latest is definitely worth both your time and money."
Watch the trailer