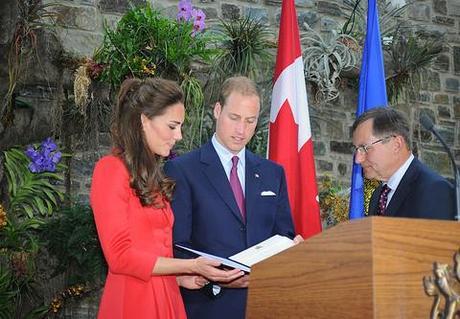 The Duke and Duchess of Cambridge: Lines of succession Photocredit: governmentofalberta http://www.flickr.com/photos/governmentofalberta/5916582158/sizes/m/in/photostream/
The Act of Settlement has been around since 1701, and laid down the law for the succession of the monarchy in Great Britain and the Commonwealth Countries. This is the act which states that a Roman Catholic, or someone married to a Roman Catholic, cannot ascend the throne (for instance the Earl of St Andrews and Prince Michael of Kent have been removed from the succession, as they married Roman Catholics.)
Royal succession also states that preference goes to male children – this is why Princes Andrew and Edward are higher in the succession than their older sister, Princess Anne. Now, with the advent of gender equality, this may all be set to change, as David Cameron presents the 15 Commonwealth realms with plans to discuss the possibility of altering the laws of succession.
The new law would see females receiving equal treatment in the line of succession (which, if also applied to the aristocracy, would allow Lady Mary Crawley to inherit Downton Abbey, making things a lot easier for her); would allow marriage to Roman Catholics (but, of course, the monarch him or herself could not be Catholic, as he or she would be Head of the Church of England), and would remove the necessity for descendants of King George II to get permission from the monarch before getting hitched. It would mean that if the Duke and Duchess of Cambridge had a girl as their first child, she would be first in line over her younger brothers. She would also, as The Daily Express somewhat shoutily pointed out, would eventually inherit the £700 million Duchy of Cornwall.
It's a thorny issue, and one that requires a lot of unpicking, which will have wider ramifications for the Commonwealth. So what do people think?
"We espouse gender equality in all other aspects of life and it is an anomaly that in the rules relating to the highest public office we continue to enshrine male superiority," said David Cameron, quoted on the BBC.
Will this get women back on the Tory side? Hmmm, said Elizabeth Rigby on The Financial Times. Whilst Cameron's really pushing his equality for women thing, this isn't the sort of thing that will bring unskilled women with low incomes "back to the Tory fold." But at least he's being "consistent."
He probably won't be able to do it at all. Jon Craig on Sky News was rather "sceptical." Many Prime Ministers have looked at this before without success. As David Cameron himself said, "'it isn't an easy issue to sort out.'" So good luck to him.
But it's a step in the right direction. The Liberal Democrats were happy – or at least, Mark Pack on Liberal Democrat Voice was, saying that their very own Lynne Featherstone had been championing the changes for ages. It's "good news" that Cameron is doing this. l
Well actually, we've got more important things to worry about. Canadians, however, were not so excited, with Prime Minister Stephen Harper quoted on The Calgary Herald: "The successor to the throne is a man. The next successor to the throne is a man. I don't think Canadians want to open a debate on the monarchy or constitutional matters at this time. That's our position, and I just don't see that as a priority for Canadians right now at all." Really, speculating on monarchy will start speculation on the role of the monarch in Canada – but "it's a debate for another day."
More royalty and Duchesses…

The Duchess of Alba: She rocks!
Prince Charles warns that mankind is endangered
Pippa Middleton documentary
A modern Elizabeth Bennet
Royal couple unfazed by abuse
Diana at 50