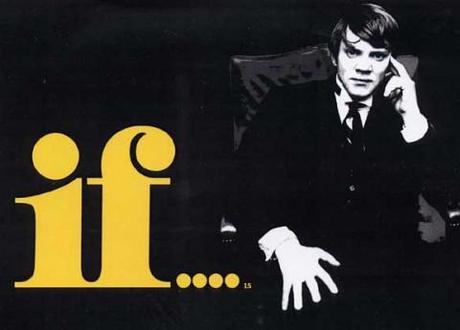 If - which David Cameron professes to like - but will films like this be made if his proposals go through?
Prime Minister David Cameron is to outline plans for directing National Lottery money to mainstream films rather than arthouse cinema, and also to export British film-making expertise. This is designed to create jobs in the £40 billion industry. The plans will be laid out as Cameron visits Pinewood studios, where the new James Bond film is currently being filmed.
Cameron thinks that the film industry should become more lucrative by funnelling money to films that will be huge box office successes rather than arthouse films, which take less money. The King's Speech is his favoured example, which brought in £250 million across the world – and cost £8 million to make; Slumdog Millionaire is another. Commentators, divided equally between business and the arts, are debating the matter ferociously.
"Our role should be to support the sector in becoming even more dynamic and entrepreneurial, helping UK producers to make commercially successful pictures that rival the quality and impact of the best international productions," said David Cameron, quoted on The Daily Telegraph.
A travesty! Filmmaker Ken Loach, who won the Palme d'Or at Cannes in 2006 for The Wind that Shakes the Barley, is peeved off, saying that it's "a travesty. If everybody knew what would be successful before it was made, there would be no problem," he said on BBC Breakfast, quoted on The Daily Telegraph. You need various projects, so that you get a "very vibrant industry." We don't have widespread independent cinema in any case, unlike other European countries.
Not such a travesty. "It is reassuring to hear the government understands the role big-budget, international movies shooting in the UK plays in building a world-class skilled workforce, while boosting the UK economy," said Ian Smith, the chair of the British Film Commission, quoted on The Guardian.
PM is a perineum. Satirist Charlie Brooker was, however, incensed, letting off steam on Twitter: "David Cameron can shove everything he's ever thought about the British film industry right up his plastic lizardy arse," he bellowed, before declaring that he was now "determined to write most commercially successful British film ever about a walking perineum being elected PM."  He also gave a link to a picture of the Prime Minister's DVD collection – which, said Brooker, seemed rather devoid of British films.
It's a silly idea. What will it mean for independent cinema? asked Andrew Pulver in The Guardian. Well, indie darling Mike Leigh is currently commissioned by the Olympics, so he's doing all right. Ken Loach – another favorite with the critics, but "no box-office heavyweight" says that the government's plans will return profits to producers, not funding bodies, which will make a big change from the UK Film Council's approach. Which has been abolished, of course. It's hugely difficult to predict success in cinema, and "the spectacle of profits being creamed off by Hollywood studios, after start-up funding from the UK lottery, is a very real possibility." And will the British public enjoy watching money go down the drain on failures? Look at what happened with Sex Lives of the Potato Men. And what would happen to such films as Shame, Wuthering Heights, We Need to Talk About Kevin; all "low-budget"… and that's not even to mention Lindsay Anderson's famous If…, which Cameron himself said he liked….
Fundable films? Whatever the case, it's led to a hashtag on Twitter: "Fundable films." Selected highlights include: "Bridesmaids Revisited"; "Knickerless Nickleby"; journalist Olivia Cole suggested "Withnail & his really pretty girlfriend."