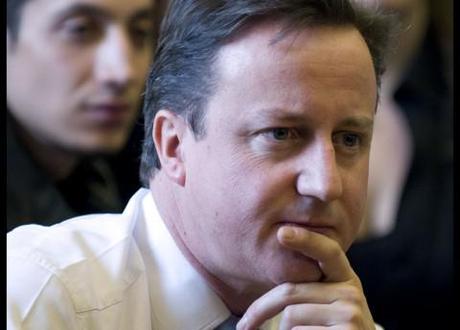 David Cameron. Photo credit: Andrew Parsons
British Prime Minister David Cameron has admitted he "screwed up" after making controversial comments to female MPs earlier in the year. During Prime Minister's Questions, Cameron advised Labour MP Angela Eagle to "calm down, dear", and told Conservative MP Nadine Dorries that she was "extremely frustrated", in an apparent double entendre. His comments drew considerable criticism at the time. Ahead of the Conservative Party Conference, Cameron told The Sunday Times (£) that he was "hugely sorry" for any offence caused and made the stunning revelation that he is not "a sort of 'All right luv, I'm down at the pub tonight'" chap. But with the Conservatives rapidly losing ground with female voters, will the PM's apology be enough to turn the tide?
Cabinet needs more women. Over at The Guardian's Comment Is Free, Jackie Ashley argued the problem runs deeper than a few off-colour comments. Citing a new academic study on gender and the Tories, Ashley argued that the cabinet needs more female MPs: "A coalition cabinet with more women round the table would have moved faster on the pensions problem and would surely have angled the cuts differently", she wrote. Ashley pointed out that Labour look likely to promote several female MPs, a move that will win "political advantage."
Out of touch. In a shocking turn of events, Melanie Phillips of The Daily Mail blamed a left-wing conspiracy for turning women off the Tories (no double entendre intended). Phillips accused Cameron of "embracing a Left-wing agenda which reflects not the lives and preoccupations of ordinary people, but of the metropolitan intelligentsia, who are hermetically sealed from ordinary people." According to Phillips, many Conservative policies show that they are out of touch with "ordinary" women, who are concerned about their children's safety, their children's education and, above all, their own ability to stay at home with their children instead of going out to work. Presumably, childless women are too busy weeping into their gin to worry about politics.
Working mothers. Writing in The Independent, Mary Ann Sieghart also urged Cameron to think of the children, pointing out that cutting childcare support may not be the best way to win over families. Unlike Phillips, however, Sieghart suggested that some women may actually want to work – and that Coalition policies are making this difficult: "Cameron can't, for the moment, abandon his deficit-reduction strategy, though he could do more to encourage growth. But he could reverse the insane childcare cuts, which are pushing women out of jobs just when they should be working," she argued.
Calm down, dears. Cristina Odone argued in The Telegraph that Cameron's comments to Dorries and Eagle had been blown out of proportion because of inverted snobbery: "Cameron's Etonian breeding generates envy not solidarity: women (and men) are quick to see condescension where none is meant", she wrote. What's more, Odone insisted that the Tories have introduced several female-friendly policies, but that due to the economic crisis, women simply haven't noticed. Odone also pointed to the Prime Minister's relationship with his "high-flyer" wife, Samantha, as proof that he is not sexist.