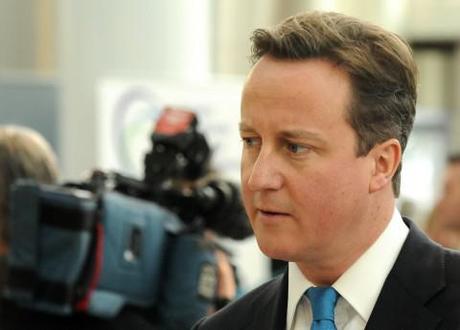 David Cameron emerges from Leveson inquiry unscathed photo: University Hospitals Birmingham
The background
The Leveson inquiry into the ethics of media grinds on – 11 months after David Cameron set it up. This week has seen some big hitting politicans interviewed – George Osborne, Gordon Brown, and David Cameron. The latter was scrutinised over his appointment of ex-tabloid editor Andy Coulson, and of Jeremy Hunt, and over his friendship with Rebekah Brooks, the News International executive, who sent him a text message asking him to a "country supper." The Leveson inquiry has so far cost £15 million. The consensus amongst the commentariat is that Cameron appeared nervous, but played it well, and has come out of it largely unscathed.
"I am so rooting for you tomorrow not just as proud friend but because professionally we're definitely in this together!" said the Rebekah Brooks text.
Cameron no doubt regrets setting up the inquiry in the first place
David Cameron looked "seriously uncomfortable," said The Independent's editorial, as his intimate relationship with Brooks was exposed; he may even have been regretting why he set up the inquiry in the first place. The remit of the inquiry has expanded; and Leveson may feel that he has to come up with some "substantial recommendations" to "curb the press." But let's hope that doesn't happen. The inquiry feels like it's gone on too long, said The Times' editorial, especially when looking at politicians and the media. The admittedly "important" question of how News International and politicians interacted has "begun to seem grossly out of proportion." Cameron was "convincing" and "persuasive"  over the Hunt and Coulson appointments, and of his feeling that the press needs to be free, whilst individuals should be protected from its worst excesses.
Cameron was fluid but has emerged with authority weakened
David Gimson in The Guardian said that Cameron was most definitely an "establishment man," mellifluously deflecting blame. He tried to make us not get so excited over Brooks and Coulson; and pointed out that other politicians had tried to ingratiate themselves with the Murdochs. Cameron had the "charm" of a "first-class batsman." However, he didn't necessarily succeed in showing that he hadn't disgraced himself.  The Guardian's editorial said that it was an "unflattering" day for the PM. He looked "hot and bothered" and has emerged with his "authority weakened." Cameron was "assured" but "nervous," said Stephen Glover in The Daily Mail. He was given "testing" questions, and he "survived reasonably intact." And far from just being friends, Brooks' texts show an exceptionally intimate relationship. He obviously had deep bonds with the Murdochs, too. He did come across as "balanced and decent," though, but he won't be able to "free himself" from these decisions.
Cameron should stop being so friendly
Cameron's a "victim of his own success," said Fraser Nelson in The Telegraph. He has charm – but where are his politics? In his world, there's no distinction between politics and the personal. And looking at the texts between Cameron and Brooks, you don't see anything political at all. He should learn his own lesson – that there should be more distance between politicans and the press.
The whole thing was a waste of time
Nick Wood in The Daily Mail said the whole thing was a "ghastly dance to the tune of power and money," and that the vote over Jeremy Hunt – in which the Tories went one way, the Lib Dems abstained, and Labour went the other way – shows the cracks in the Coalition government. The Daily Express' leader said Cameron had a "James Bond-like comma of a quiff." But at the end, nobody won, and nobody lost. It was all a bit pointless. James Forsyth in The Spectator agreed, adding that he hoped Cameron could now get on with his real job and start worrying about the Spanish debt crisis.