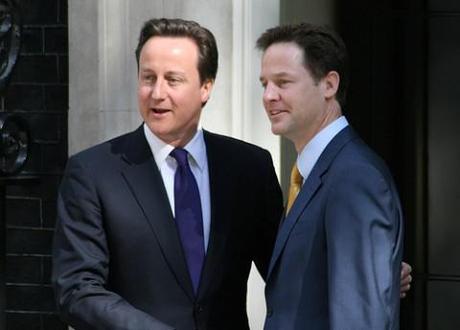 Cameron and Clegg. Photo credit: The Cabinet Office
The Background
The UK coalition government is under intense pressure after a series of disappointing results in recent local elections. Conservative Prime Minister David Cameron and Liberal Democrat Deputy PM Nick Clegg face criticism from within their own parties after Labour made considerable gains.
Get the lowdown on the local election results 2012 at The Periscope Post.
The Tories have been particularly vocal, calling for a return to traditional Conservative policies. Twenty Tory MPs have backed an "Alternative Queen's Speech", which puts forward "Majority Conservatism" ideas such as a referendum on Europe, lower fuel tax and greater controls on immigration.
Lib Dem Deputy Leader Simon Hughes accused Conservatives of behaving as if they were "born to rule', fueling further speculation about tension within the coalition.
Can Cameron and Clegg appease voters, their own parties and each other?
Dark days ahead for Cameron
Cameron faces testing times, said James Forsyth at The Spectator's Coffee House blog – not least because ongoing economic issues in Europe could affect the UK's growth prospects. And the Leveson Inquiry, with its impending revelations of Cameron's closeness to Rebekah Brooks, doesn't exactly help matters for the PM, threatening to "bolster the impression that Cameron is a member of a gilded elite".
Conservatives must get behind Cameron
"The Prime Minister, for all the mistakes he has made, remains an asset to his party, who is perfectly capable of engineering a revival in Tory fortunes," wrote Iain Martin in The Telegraph. It's time for top Tories to stop playing the blame game and focus on the business of winning back voters: "The various Conservative armed camps are just going to have to get on with it and try to come to an accommodation with David Cameron."
Lib Dems must share the blame
"The problem is that the Lib Dems have inflicted their cranky and unpopular policies on the country as the price of their role as Coalition partners," insisted Simon Heffer in The Daily Mail. "Most Tory MPs recognize something that Mr Cameron, if he were to agree, could never admit in public: that his mission to improve the prosperity and governance of Britain is being retarded by the partnership with the Lib Dem," Heffer said.
Voters need proof, not PR
Cameron and Clegg may be planning a coalition relaunch that puts the emphasis on helping poorer families, said a Sun editorial, "but crocodile tears and a few slick PR phrases are not enough. People want proof." The editorial suggested that the best way to do this would be for the government to rethink the planned rise in fuel duty: "If Mr Cameron gives a helping hand on fuel, the public's smouldering resentment might start to fade."