I've just read that if it weren't for David Bowie, the son of the late Marc Bolan would have been in fairly dire straits. When Bolan died in 1977, his finances were in the middle of a rehaul and in trust so Rolan and his mother (not married to Bolan) were unintentionally not provided for. Rolan Bolan has recently revealed that his godfather David Bowie, quietly stepped in and paid for his education and other expenses. 
"David's generosity helped my mother and me to survive. It wasn't just the financial help, but the time and kindness. He never came to see us in California because he lives in New York and hates to travel. But he kept in regular touch by phone and his first and last words every time were: "Don't hesitate to tell me if there is anything I can do."
Swoon.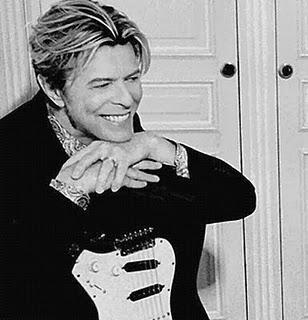 I've always liked Bowie - not just his music, but the sense of humor that comes through, his intelligence, and his fab sense of style. And now this! I know the money he has spent on Bolan is a drop in the ocean compared to his total wealth, but the fact that he reached out at all, and kept the whole thing quiet is really impresses me.
There's something about conspicuous philanthropy that just makes me squirm. Yes, I know Angelina Jolie does a lot of good work, but do we have to hear about every million that she and Brad donate? Does Oprah have to tell us that her ridiculously lavish school in South Africa cost $40 million. 
Here in the States, where taxes fund a lot less "stuff", there's a lot of fund-raising and philanthropy. I live near a free zoo, that is totally funded by private donations. There's a big ball every year to raise money, and a lot of Chicago's big wigs make huge donations - in exchange for having their names writ large on the side of an enclosure. Yes, folks. When you give big bucks over here, everyone gets to hear about it.
As a fund-raiser for a small school in Ghana, don't get me wrong, if you gave me large sums of money I'd willingly have your name tattoo-ed across my forehead or wherever else you demanded, - but the whole "Look how much I gave this year" approach nevertheless strikes me as somewhat tacky. 
Most of the big charities here publish a report every year, listing their donors and how much they have donated. They are generally grouped by amount, so that the few who donate a million (and yes, there are people who do) are listed in the top group, then those who gave $100,000 etc, right down to the people who give $500 or less. Even private schools (most of whom are registered charities) do it, so everyone knows how much you gave to your kids' own school. At my kids' school we have whole wings of buildings names after the families who paid for the construction - a permanent reminder of their generosity. 
I understand that charities will do whatever it takes (legally) to raise money and I can't really blame them for pandering to the egos of big donors, but when I hear about someone doing good without making a big fuss,  - it warms the cockles of my heart.