So you know all those artists you know their whole back catalog and you can talk about for hours and there's always more material talk about? And then there's the ones that are that to someone else but you've no idea about them apart from their most famous songs.
One of those for me is David Bowie, I know he defines the nature of genius but where do you start with people with that kind of musical history? Thanks to twitter it turned out the best place for me to begin my Bowie odyssey was his eleventh album, Low.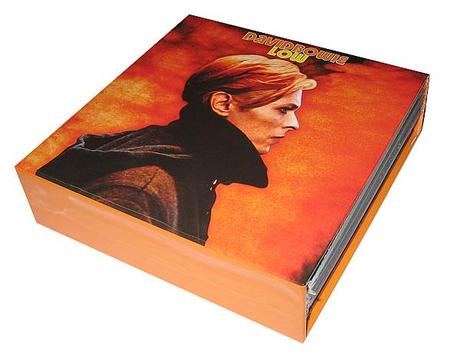 David Bowie- Low
Low is the first album of something known as "the Berlin trilogy" so called as for the duration of these three albums he was living in Berlin, sharing an apartment with Iggy Pop. It is said during the initial period he was focussing on minimalist, ambient music and this album is the result of that fascination.
"fairly complex pieces of music, masquerading as simple pieces" ~ Phillip Glass
I'm not the biggest fan of instrumental music but the opening track of this album "Speed of Life" is perfectly crafted and hypnotically infectious. I mean, I know David Bowie is all about keyboards and guitars, I could tell that by looking at him but he encapsulates retro-futurism in his music with consummate ease.
Breaking Glass is like saying hey, casual listener- just so you know this is what this album sounds like. I've heard many indie bands that make music like this and What in the world over the last decade, I mean these chirping and warping guitars underscoring inconsequential lyrics were going at it 30 years before OK Go started wanking out music videos and.. also before pacman.
When you're talking about the tracks that might well make this album worthy of the masterpiece tag Sound and Vision is a home run. Blissful and mercurial, it's a song I'd like to be around the first time anyone heard it because there's no second guessing it, I mean there's everything that's going on for the first minute and then… wait? Saxophone? Female backing vocals? And after that his vocal delivery is just insane and these are the kind of moments that really do mark him out as something else. The only criticism is why make something this good, that short? This is a typical example of what should have been a 10 minute epic, it flows ever so perfectly.
If you are fond of songs that can get stuck in your head after only hearing them once Be My Wife is characteristic of that as well as of his kraut-drone influences melding at just the right intensity, more piano driven than anything you'll find on Low and biographical in nature harking back to his previous work BMW makes for the smoothest of journeys into the abyss.
I discovered pretty early on that once you flip the digital vinyl of a Bowie album you needn't expect anything like what you've just been listening to grace the other side. The music on Side B of Low has more avant-garde aspirations and is likely to sail over the head of a lot of listeners, interstellar and experimental but with alluring character it isn't worth missing.
"… the instrumentals are strange and spacey. Nevertheless, the whole thing strikes this listener as remarkably, alluringly beautiful" ~ John Rockwell, New York Times
So there's three tracks that have made into my regular rotation and I figured with such an oeuvre even one song off an album would make for one hell of an iTunes playlist. I'll keep you updated on my journey.
"it's the music of an overstimulated mind in an exhausted body" ~ Rolling Stone 5/5
Speed of Life
Sound and Vision
Be My Wife