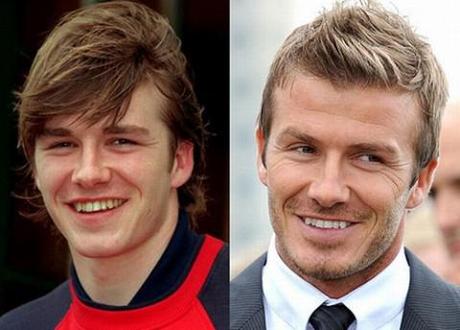 David Beckham look has changed many times over the years. Photo credit: RandomPlaces
Could Queens Park Rangers be close to clinching a deal to bring ex-England captain David Beckham to Loftus Road in January? That's the sensational rumour hotting up the QPR fan messageboards as the new-look QPR team prepare to lock horns with Newcastle United at Loftus Road tonight.
A few weeks ago, anyone suggesting QPR might swoop for 36-year-old Beckham would have been laughed out of Shepherd's Bush. But airline mogul Tony Fernandes' takeover of the west London club has breathed new life into the club which only returned to the Barclays Premiership this season after 15 years in the lower leagues. On the eve of the transfer deadline, QPR signed a host of players with genuine Premier League experience (including Anton Ferdinand, Shaun Wright-Phillips, Joey Barton and Luke Young) and now are reportedly targeting Los Angeles Galaxy midfielder Beckham. Beckham is in the final year of his Major League Soccer contract. He has made 69 appearances for Galaxy since joining from Real Madrid in 2007.
The seriousness of QPR's interest in signing Beckham emerged on Monday morning as the club unveiled an £8 million shirt sponsorship deal with Air Asia/Malaysia Airlines.
Fernandes: We are serious. "Beckham's advisers want to talk because our vision is a long-term one, with commercial things David can do with me in Asia," Malaysian Fernandes told the BBC, adding that he can offer the globally-recognised star the "love, care and attention" he requires to fulfil his ambition of captaining Team GB at the 2012 London Games. "I'm an ideas man, and he is an idea. He may not want it, he may want a bigger club  … but who knows what can happen in January? We will have to wait and see," teased Fernandes.
Fernandes wants to offer Beckham "love,care and attention." He'll also need to offer him (plenty of) money.
QPR ready to battle Spurs for Beckham's signature. "QPR chief (Fernandes) is ready to battle with Spurs if Beckham decides to return home from LA Galaxy to boost his chances of leading a British team at next year's Olympics," reported Tony Little of The Sun. The tabloid quoted Fernandes as saying: "It will be a massive statement of intent for us if we bring Beckham back in January … I can give him the vision that I've got the balls to do it. It may fail but nothing ventured, nothing gained." Little noted that Beckham is also "being hunted" by Tottenham boss Harry Redknapp.
AirAsia's spokesperson, Kathleen Tan, noted that major shareholder Tony Fernandes was a determined man when he wanted something badly: "Over the years I've learned to take Tony seriously when he says he's going after something – no matter how difficult it might be," she said. "No-one thought his ambitions in F1, for example, were serious – and he made that happen."
Beard's relationship with Becks could be the clincher. Paul Warburton of The Hammersmith and Fulham Chronicle, a paper with close ties to QPR, suggested that the club is working hard behind the scenes to lure Beckham. Reporting from the club's Monday morning press conference, he said "Chief executive Phil Beard's held out the carrot of 'finding no club better in London' for the global superstar than the Premiership new boys," and reminded that Beard knows Beckham well.