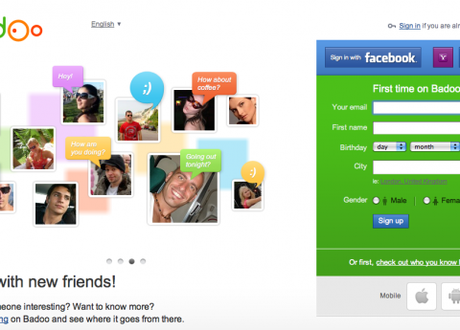 Badoo: Facebook for sex?
Badoo, a dating website based in London's Silicon Roundabout, has 400 employees, and has reached 130 million users in 180 countries, which brings it into the top four social networks in the world. It brings in $100 million a year, according to TechCrunch. Badoo's London site is owned by Andrey Andreev, a Russian entrepeneur. But is it just Facebook for sex? It's meant to be a place to "chat, flirt, socialise and have fun", but, according to The Huffington Post, a third of the site's million British users admit to using it to find – well, sexual partners. It has 125,000 new users a day, and over seven billion monthly page views.
It may be coming up the outside track to Facebook – but is the social networking site losing users anyway? It's about to make its much-vaunted initial public offering, and has 800 million members around the world, with about 200 million in the United States. So should the now-venerable social networking site be looking to its laurels? Will the thrusting young blade Badoo be knocking Mark Zuckerburg's featherd hat off? We shall see, we shall see … Commentators are roundly praising Badoo, and whilst there are signs that some people may be leaving Facebook, it's best to bear in mind that it still has the largest slice of the internet social network pie. By a long, long way.
Global reach. What's so good about Badoo, said Josh Constine on TechCrunch, is that the site adapts itself to its locality – so in the UK, it's for "casual dating", in the Czech Republic "it's a marriage site, and in Indonesia burqa-clad women find self-expression." Rather than trying to be Facebook, it focused on "helping strangers connect." It uses "micropayments", and subscriptions to "special features", so you can see who's viewed your profile. It's a "sensible path to monetization" – "give away the core functionality, take serious funding", and "get users hooked", then "upsell them on perks."
Free stuff! It's the free features that do it, said Mashable. "Ice Breaker" means you can start conversations; "Interests" means you can leave things you actually do – rather than "pre-defined ones" that other dating sites use.
Get out of the way, Facebook! Facebook may be downsizing, anyway – when Tyson Balcomb, reported Jenna Wortham on The New York Times, had a chance encounter with a woman in a lift – and found that he knew a lot about her having never met her – he thought " 'maybe this is a little unhealthy.'" Some, though, are refusing to join in – "including people who have given it a try." Some say it even alienates them. Facebook, whilst accepting that some people won't ever join up, is trying to make established users stay on the site longer – and is growing in places such as "Asia and Latin America." Whilst Facebook grew 56 percent from October 2009 to October 2010, it only grew ten percent from then to this year.  Facebook holdouts report that their lives are going on pretty much as they did before.
"Our goal is to offer people a meaningful, fun and free way to connect with their friends, and we hope that's appealing to a broad audience", said Jonathan Thaw, a Facebook spokesman, quoted on The New York Times
"If I want to see my fifth cousin's second baby, I'll call them", said Erika Gable, a PR worker, quoted on The New York Times.
Yeah, you're so not cool! Adam Clark Estes on The Atlantic Wire put it pretty succinctly. He said "To wear out that worn out Social Network quote a bit more: Joining Facebook isn't cool. You know what's cool? Quitting Facebook."