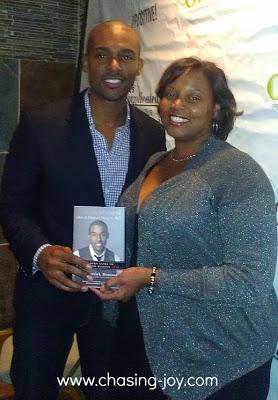 Me and Paul Carrick Brunson after he signed my book.
About my weekend :-) Yesterday I told you about how my weekend was good and that I'd tell you about it later. Well it's later. Saturday and Sunday I did blog related stuff that I'll tell you about in future posts (I know, still making you wait :-) But on Friday I did something that was not blog related at all. It had to do with my love life or should I say my desire to have one LOL.
On Friday I went to a seminar and book signing for the only male black matchmaker that I know of, Mr. Paul Carrick Brunson. I first saw Paul on the Dr. Drew Show, Life Changers. He seemed very genuine. He was offering practical advice on dating to an audience made up of a lot of black people. You hardly ever see that on TV. He was also debunking some of the myths about love and relationships amongst black people including emphasizing that Black women are not bitter. I liked him and started following him on twitter. On two separate occasions I tweeted him with questions and he replied within a couple hours. The 2nd tweet I sent him was asking when he'd be bringing his dating/relationship expertise to Philly. His response was "Next Week" along with a link to the website for the It's complicated tour. So that is how I ended up at VII Luxe Lounge on Friday night.
I was not sure what to expect of the evening. Initially I thought it would be like the dating mixer event that was shown on Dr. Drew's show. Then after reading the website I thought it would be more of a seminar. It was a combination of both. The evening started off like a typical happy hour. Doors opened at 6 pm to drinks, wings, music and mingling. After some vocalizing by an up and coming artist, who's name I did not catch, PCB (Paul Carrick Brunson) graced the stage.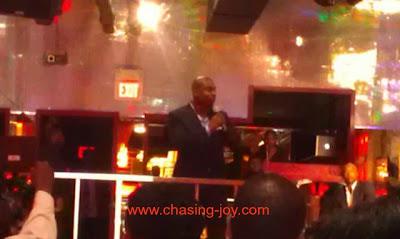 Paul Carrick Brunson doing his thing.
His seminar was sort of a preview/walk through of his book It's Complicated But Doesn't Have to Be. He kept it really interactive with lots of audience participation. There was lots of laughing and even some hooting and hollering. A possible love connection was made, not for me, but for the cute couple who volunteered to go on stage for one of the exercises.
Here is a list of highlights from PCB's presentation that I hope to delve deeper into in his book:
During a survey, the feature that the majority of women all said they wanted In a man was height. Over 6 feet to be exact. I have to include myself in that group, though I'm not counting shorter guys out.
Your chances for a long lasting relationship are greatly increased if you meet these four criteria: common values, in line with non-negotiables, complementary (not matching) personality types, and attraction. Non-negotiables are the things you won't compromise on. Attention Mr. Future Joy Chaser, my non-negotiables are must believe in God and Jesus (yes both) and must want children. Values would include things like work ethic, iimportance of family, adventure, generosity, friendship, dependability, etc. Personality types need to mesh well and not be the same. Think of the arguments two people who both need to be right would have. Or think of the messy house that two laid back, I'll get to it later, types would have. Attraction goes without saying. An interesting fact PCB shared was that studies show that men will describe a woman as hot if her waist is 70% smaller than her hips. Excuse me while I find my measuring tape :-) I think meeting the first three criteria is what keeps you together as you get older and looks start to fade. Maybe being solid in those three areas is what makes the attraction last. 
3 tips for ladies approaching a man are keep it short don't unsell yourself, be confident, and have swag (have your look together). For me this was the most valuable part of the night. If you remember from my post talking about how I was not feeling too confident, approaching men has not been my strong point. There was some roll play that showed how to do it.  It was funny but the best part was at the end the men who'd volunteered to participate told us what they felt the woment did best.   
Don't think that if you have experienced love once you'll never experience it again. Love can happen again.  Increase your social circle and be open to the possibilities. Your Mr. or Mrs. Right is likely less than 5 degrees of separation away. At least I hope my Mr. Joy Chaser is that close :-)
As I read through PCB's book I'll share any other tips that I ll attempt to put into practice. Have you read the book? I know a lot of you Joy Chasers are married. What are your tips for  awesome single girls, like me who are looking for their Mr. Awesome Single Guy?