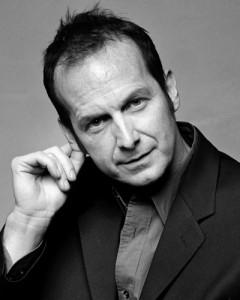 We told you in November that Denis O'Hare was going to finally star in the adaptation he wrote with Lisa Peterson of "The Iliad." The play has been touring throughout the country without him due to his other commitments.
Denis' performances will be in his home town of New York City starting next month. Below is an update on the performances including dates and location.
New York Theatre Workshop (NYTW) Artistic Director James C. Nicola and Managing Director William Russo have announced that the New York premiere of An Iliad, by Denis O'Hare and Lisa Peterson, based on Homer's Iliad translated by Robert Fagles, directed by Ms. Peterson, will begin performances on Wednesday, February 15, 2012, at NYTW, 79 East 4 Street, between Bowery and Second Avenue. Mr. O'Hare and Stephen Spinella will alternate performances of the play. Opening nights are Tuesday, March 6, 2012 (Mr. O'Hare) and Wednesday, March 7, 2012 (Mr. Spinella).
A sprawling yarn based on Homer's epic poem, An Iliad spins the familiar tale of gods and goddesses, undying love and endless battles told through an original and immediate voice. Tony Award-winning actors Denis O'Hare (Assassins, Take Me Out) and Stephen Spinella (Angels in America) will alternate as performers in this account of humanity's unshakeable attraction to violence, destruction, and chaos. Has anything really changed since the Trojan War?
There's more information at: broadwayworld.com