Darol Anger and The Furies: 
On A Winter's Night
Friday, December 4, 8:00pm
Unity Somerville




6 William Street




Somerville, Massachusetts




(5 blocks north of Davis Square)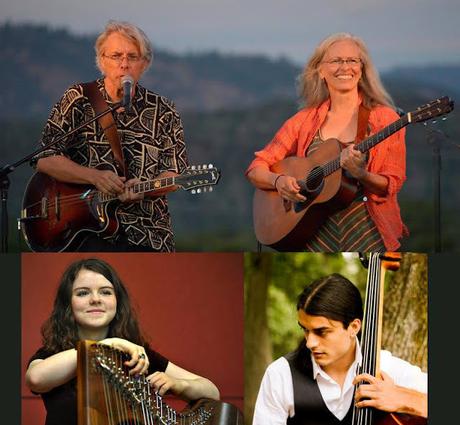 Darol Anger (5-string fiddle and mandocello) | Emy Phelps (guitar and vocals) | Mairi Chaimbeul (harp and vocals) | Ethan Jodziewicz (bass)
notloB Music's Fall music series continues with a return to a familiar and well-loved space, Unity Somerville, where we presented two dozen concerts between 2009 and 2013. We will celebrate our return with one our favorite ensembles, Darol Anger and The Furies, who we have presented twice, not to mention having worked with Darol on at least five other occasions involving star artists from his galaxy such as Rushad Eggleston, Joe Walsh, Sharon Gilchrist, Maeve Gilchrist and Grant Gordy. We're really looking forward to this one!
Acoustic Music legend Darol Anger joins rising singer-songwriter Emy Phelps in organizing some of the country's best young string musicians in a multigenerational musical experience focusing on the spirit of Midwinter and the turning of the year.
Darol's experience with holiday shows from Windham Hill through Newgrange to Yulegrass, his quirky humor, and his genius for organizing exciting bands will be utilized at full bore. Living in the Boston area, Darol has been a mentor to some of the most exciting and phenomenal young musicians in the world. In the Furies, these powerful presences are brought into synchronization and orbit around Anger's vision and that unmistakable violin voice. The result is mythical, magical, musical mayhem. Special guests, family and friends will undoubtedly make appearances.
Darol Anger is a legendary and influential fiddle guru, who has spent over four decades reinventing American string music to encompass his explorations of bluegrass, jazz, and all other music. The groups that he founded or co-founded include the David Grisman Quintet, the Turtle Island String Quartet, Psychograss, Montreux, and the Republic of Strings ensemble. His playing and composition overflow with passion, prodigious technique, and generous humor. He has spent his career enlightening and inspiring his fellow musicians, and vice-versa.
Emy Phelps is a standout artist in a large field, a prolific songwriter with a riveting voice which plumbs the deepest emotions. A muscian of note in the Pacific Northwest, she has made a 30 year music career while raising 3 sons and one daughter, achieving degrees in Theatre Arts and Special Education.
Màiri Chaimbeul is a young harpist/composer, born and brought up as a Gaelic speaker on the Isle of Skye in the North-West of Scotland. She has toured throughout the UK and in Europe as well as the USA, including the Celtic Connections Festival, The Edinburgh International Harp Festival, and Zakir Hussain's Pulse of the World Festival, London 2012. She participated in the prestigious Acoustic Music Seminar in Savannah, Georgia, in 2013 & 2014, working with Julian Lage, Mike Marshall, David Grisman, Bela Fleck and Darol Anger. She currently studies at Berklee.
The Furies have added, for these shows, the spectacular young bassist Ethan Jodziewicz, who completed study at Curtis Institute with Edgar Meyer. Ethan is one of the most virtuosic and versatile bassists anywhere, and is now helping to revolutionize the bass' role in American String Music, appearing all over the US with Sierra Hull and the band Mr Sun.
Be social, share the Facebook event 


Tickets
Premium (first three rows) $20; General admission
$15; Early bird s
eniors and students $
10 (qty limited).