DAROL ANGER AND EMY PHELPS
WITH FAMILY AND FIENDS, PART 2 Saturday, October 58pmA private residence just west of BostonDarol and Emy's website & Facebook page
Email notlobreservations at gmail dot com for reservations and the address.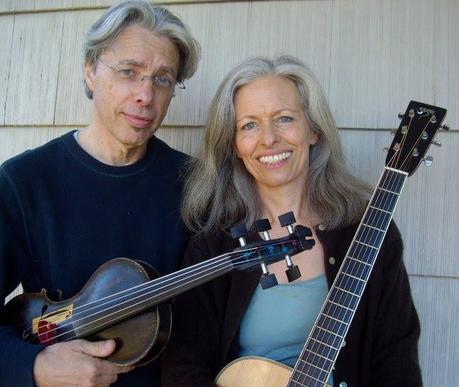 Darol and Emy, with their family and fiends performed last December for our brother series, Lord Geoffrey Presents - see https://sites.google.com/site/lordgeoffreypresents/home/121114-anger-phelps/ & https://www.facebook.com/events/357007257715811/ -
The prior Spring, with Sharon Gilchrest, they performed at notloB's former venue, the Loring-Greenough House - see https://www.facebook.com/events/330067057038793/
When Darol asks for a return gig, he gets it. And there is no telling which "fiends" he will bringing along! 
This will be a concert in a private residence somewhere west of Boston (not too far, in fact the MBTA runs nearby). RESERVATIONS AND PREPAYMENT ARE REQUIRED (suggested donation is $20pp). Send email to notlobreservations at gmail dot com, we'll reply with instructions.
Fiddler, composer, producer and educator, Darol Anger is at home in a number of musical genres, some of which he helped to invent. Exceptional among modern fiddlers for his versatility and depth, Anger has helped drive the evolution of the contemporary string band through his involvement with numerous pathbreaking ensembles such as his Republic Of Strings, the Turtle Island String Quartet, the David Grisman Quintet, Montreux, his Duo with Mike Marshall, and others. He has performed and taught all over the world with musicians such as Dr. Billy Taylor, Bela Fleck, Bill Evans, Edgar Meyer, Bill Frisell, Marin Alsop and the Cabrillo Orchestra, the Detroit Symphony, Mark O'Connor, and Stephane Grappelli. Today Darol can be heard on NPR's "Car Talk" theme every week, along with Earl Scruggs, David Grisman and Tony Rice. He has recorded and produced scores of important recordings since 1977, is a MacDowell and UCross Fellow, and has received numerous composers' residencies and grants. He has been a featured soloist on dozens of recordings and motion picture soundtracks. He is an Associate Professor at the prestigious Berklee School of music.
Emy Phelps does not remember a time when she has not sung. Trained in theater arts, she participated in Ashland, Oregon's world-reknowned Shakespeare Festival programs including both Shakespeare and contemporary productions, and danced for 3 years in The Green Show, an ongoing Festival program. She was a founding member of Brian Ransom's The Ceramic Ensemble, which toured internationally from 1980–1987. As a member of that ensemble she did research on indigenous music in Peru. She is a musician of note in the Oregon region and has performed all around the Pacific Northwest since the late 80's. 
She has released one recording entitled As It Should Be on Sweet Mercy Records, and has participated in many recordings including Patrick Brayer, Chris Darrow, Norma Tenega, and Duke McVinnie. Past venues include the New Music America Festival in Philadelphia, North By Northwest, the Moab Folk Festival, Wintergrass, The Britt Festival, and Northwest Folk Life Festival in Seattle.
Family? Just you wait, you will be blown away by this cello virtuoso! Imagine a young Rushad Eggleson with Darol Anger chops.
Fiends? - you'll have to come to find out, but you will not be disappointed!