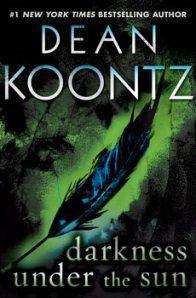 Darkness Under The Sun by Dean Koontz
Harper Collins (e-book), 2010
47 pages 
BLURB FROM THE COVER 
An exclusive novella, available only as an eBook, from the international bestselling master of suspense. 
The chilling account of a pivotal encounter between innocence and ultimate malice, Darkness Under the Sun is the perfect read for Halloween – or for any haunted night – and reveals a secret, fateful turning point in the career of Alton Turner Blackwood, the killer at the dark heart of What the Night Knows, the forthcoming novel by Sunday Times bestselling author Dean Koontz. 
There once was a killer who knew the night, its secrets and rhythms. How to hide within its shadows. When to hunt. 
He roamed from town to town, city to city, choosing his prey for their beauty and innocence. His cruelties were infinite, his humanity long since forfeit. But still…he had not yet discovered how to make his special mark among monsters, how to come fully alive as Death. 
This is the story of how he learned those things, and of what we might do to insure that he does not visit us. 
Darkness Under the Sun is as chilling as it is unforgettable. It is available exclusively for download in electronic book format. 
EXTRACT 
A WEEK BEFORE HIS ELEVENTH BIRTHDAY, WHEN Howie Dugley climbed to the roof of the former Boswell's Emporium to watch normal people doing all kinds of ordinary things along Maple Street, he saw the monster for the first time. 
REVIEW 
I thought Darkness under the Sun was great. This is a prequel to What the Night Knows but I don't feel like I need to read the whole novel to fill any gaps unlike Wilderness and The Moonlit Mind. Darkness under the Sun can stand on its own right. I might just read What the Night Knows out of curiosity – damn you Koontz for giving me more books to add to an ever-growing list! Anyway, where was I? Oh, yes – Darkness under the Sun. I liked the way Koontz builds the story. At first little Howie think the strange man, the monster he meets on his roof as his friend and he certainly seems to be a kind soul taking pity on a young boy who has been left scarred and damaged by his father's madness. I was curious to see where Koontz was going to go. Thing start to take a dark turn when Howie is set upon by one of his bullying classmates and his new 'friend' comes to the rescue. The novella gets darker and darker as Koontz reveals that Howie's first impression of the man on the roof as a 'monster' was chillingly accurate. I wasn't expecting the direction Koontz took with Darkness under the Sun was pleasantly surprised. I liked the way Koontz paced the story. Years passed in a few sentences. Darkness under the Sun is a well-written, sinister little tale.
RATING

UP NEXT

77 Shadow Street by Dean Koontz (e-book)